A 'day in the life' Facebook app gives users insight into Alzheimer's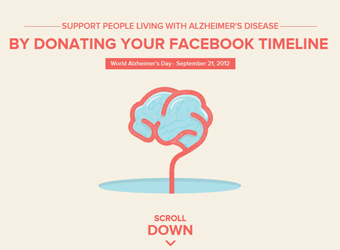 For last Friday's World Alzheimer's Day, Alzheimer's Disease International created a Facebook app that erases all of the information in users' Timeline temporarily to give people a taste of what living with Alzheimer's is like.
Developed by Ogilvy Belgium, the app replaced all posts and pictures with the message, "Imagine your life without memories. For 36 million people living with Alzheimer's disease, this is reality."
Adweek speculated whether the app is sufficient to jar users into a greater empathy for the disease or if the approach is too subtle. "Facebook profiles are such an intrinsic part of some people's lives that 'losing' years of deeply treasured cyber-mementos, if only for a day, could provide at least of small taste of what Alzheimer's patients endure," AdWeek reporter David Gianatasio writes.
"Once the Facebook profiles return, will folks recall the experience and support the fight against Alzheimer's, or will the exercise almost immediately fade from memory?"
The app was supported by a TVC that shows the struggles one woman faces in remembering everyday tasks, with Post-it notes dotted around the woman's house to jog her memory. The spot ends with the heart-wrenching scene of the woman's daughter visiting and having to use a Post-it note to identify herself to her mother.