Athletic brand Skins attacks IOC on eve of Winter Games in campaign about ethics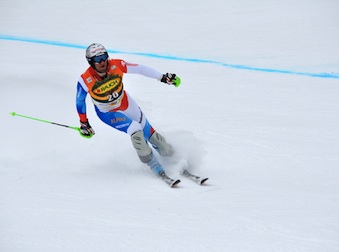 Athletic clothing company Skins has instigated an attack on the 'hypocrisy and contradiction' of the International Olympic Committee (IOC) through a campaign coinciding with the start of the Winter Olympic Games in Sochi.
Skins is focusing its campaign on 'International Olympic Contradictions' (#IOC) in a campaign on Pure Sport (a content platform created by Skins) and aims to challenge the ethical wisdom of the IOC's award of the Games to Russia.
Pure Sport has previously promoted a separate campaign to highlight public demand to rid international sport of performance enhancing drugs. Over the next two weeks, the platform will roll out a series of messages which highlight how fundamental Olympic principles have been compromised and certain social groups left isolated, by the staging of the 2014 Winter Games in Sochi.
The two-week long narrative will be shared via the Pure Sport Twitter account with full campaign information available on the Pure Sport website. The messages will include key elements from the IOC's own charter as well as quotes from key officials, such as former President Jacques Rogge and will highlight the hypocritical path that was followed to select Sochi as Host City and effectively endorse the host nation's humans rights record. Among the messages to be released will be a reminder of the IOC's declaration that it will: "act against any form of discrimination affecting the Olympic movement."
Skins' chairman Jaimie Fuller said in a statement: "There is no doubt that the IOC's decision to go to Sochi is seen as dangerously divisive on a global scale and also as severely damaging to the credibility of the Olympic Movement. So what we're saying is that this simply cannot be allowed to happen again.
"There is a responsibility to ensure that the world's major sporting events operate in a wholly and unrestricted environment that is inclusive of all groups, irrespective of colour, race or sexual orientation."
Skins have a total of 25 partner athletes taking part in Sochi. The partner list includes athletes from Switzerland, Austria, France, Italy, Germany, Great Britain and Togo. Fuller added: "Sport should be showing the world that restrictive practices based on such principles are deplorable, but in going to Sochi, the IOC has actually endorsed policies of discrimination and restraint.
"To hand a hosting opportunity to a regime which operates in contravention of the basic Olympic ideals is completely unacceptable and we're standing up in full support of those who are affected and in full support of the true spirit of competition.
"Pure Sport aims to highlight the inconsistencies which discredit the sporting movement as a whole and in this case, while we cannot undo what has already been done, we can help to apply the sort of pressure that ensures the IOC – and any governing body for that matter – practices what it preaches. The custodians of world sport must conduct its affairs in a way that ensures sporting competition is fully inclusive and completely fair."