Battle of the Brands: MasterChef Australia vs. My Kitchen Rules (Australia)
In this third instalment of our regular 'Battle of the Brands' series from Meltwater, David Hickey compares the social media activity and online news coverage of popular rival cooking shows, MasterChef and My Kitchen Rules.
MasterChef Australia and My Kitchen Rules (MKR) may be over for another year, but it's without a doubt that the Australian public is still hooked on cooking shows. In fact, copycat programs followed hot on the heels of the MasterChef finale, which saw 2 million metro viewers tune in on 28 July 2015.
New programs may be popping up on our screens, but when it comes to the contenders for the nation's favourite reality cooking show, the battle remains between MasterChef and MKR.
Both shows had thousands of people tuning in each night, but how do they really compare when we break down the conversations? When it comes to conversation volume, share of voice and sentiment, who comes out on top? Using our Meltwater media intelligence platform, we take a look at what's being said across online news outlets and social media platforms as these programs go to air.
Volume and share of voice
MKR inspired approximately 23 times the social media conversations of MasterChef over the airing period, but it won by only a 4% margin in online news coverage from the past six months. Twitter was by far the most popular social media channel for both MKR and MasterChef (84% and 70%), however Facebook represented a higher proportion of total coverage for MKR (10%), and YouTube was a significant channel for MasterChef (12%). MasterChef averaged 71 conversations per day, while MKR averaged 1,256.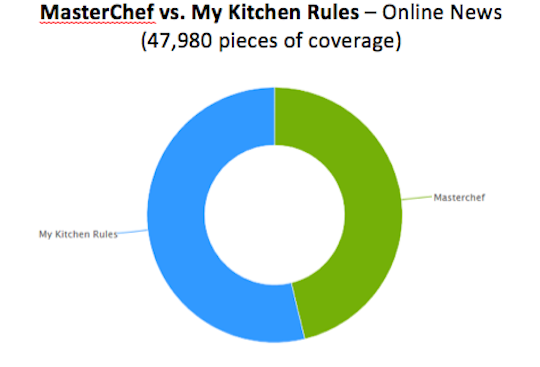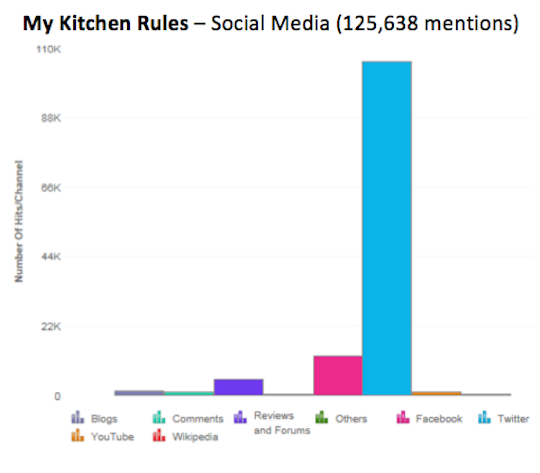 Sentiment
Both shows achieved mainly neutral sentiments on social media. However, the notoriously dramatic MKR has stirred proportionately more negative conversations than MasterChef, which could be helped by the presence of a 'villain' each series. Towards their finales, both shows incited feverish speculation and excitement on Twitter and Facebook.
Examples – MKR
For the next series can you please take a leaf out of the Master Chef book – make it about the cooking not the drama! …

Posted by Anissa Siddell on Tuesday, 5 May 2015
what am I supposed to do with my life now that MKR is over? I'm not actually joking

— s a m a n t h a (@samantha_lb) May 5, 2015
Examples – MasterChef
Masterchef Australia 2015 @masterchefau was my favorite year so far 🙂 So sad it's over @billie_mckay15 @GeorgiaBarnesAU

— Drake Knight (@DrakeAlexKnight) July 28, 2015
That awkward moment when dinner gets delayed in my house because everyone is watching Masterchef Australia

— Atul Khatri (@one_by_two) July 28, 2015

For online news, sentiment was generally equally distributed between neutral, positive and negative, however negative sentiment was slightly dominant for MKR, with slightly more neutral sentiment for MasterChef.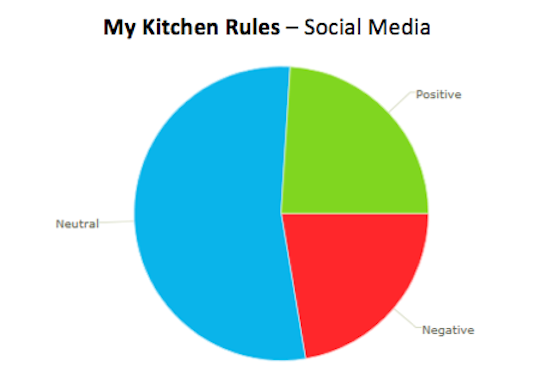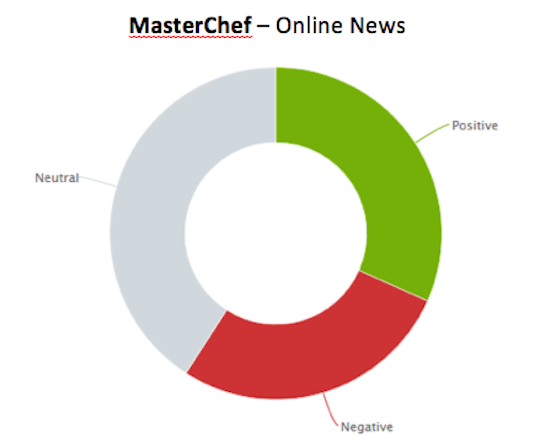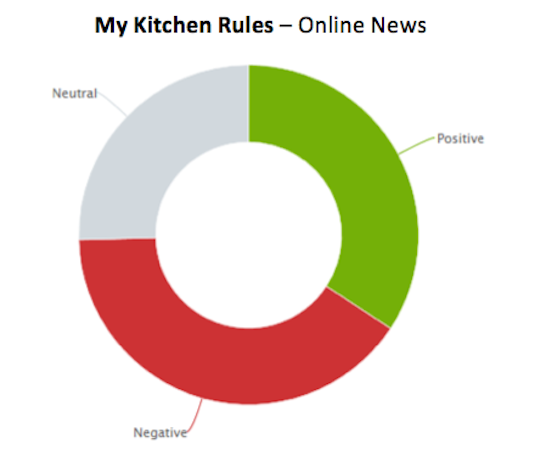 Trending themes
When it comes to MKR, the trending themes revolved around the contestants, in particular the 2015 villains Kat and Ash, frequently called out for their sneaky tactics and snobby attitudes, respectively.
With MasterChef, the themes focused more on the show itself, with people talking about watching the show. 'House Rules' was a prominent theme as it was a competing program that aired around the same time. The contestants that received the most mentions are Reynold Poernomo and Billie McKay, who were the viewer favourites this season.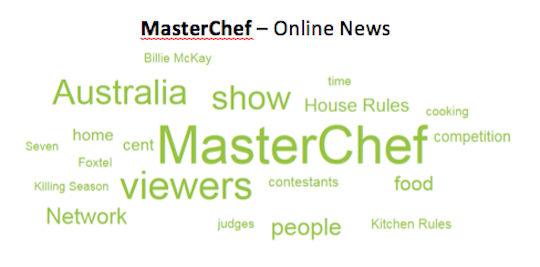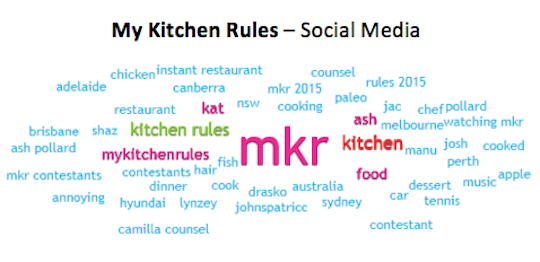 Wrap-up
Overall, MKR has generated more interest and attention than MasterChef on social media and online news media during its airing period, with 23 times more social media conversations based around its contestants' antics.
It is important that brands understand what insights can be gathered from their influencers and brand advocates, and this can be gathered by diving deeper into the valuable media intelligence that is available to them. By better understanding the key themes and characters that resonate most strongly with viewers, brands can better engage with their audiences and use these outside insights to strategically shape their marketing strategies and stay one step ahead of their competitor.
Disclaimer: While Meltwater endeavours to provide accurate, reliable and complete information, Meltwater makes no representations in relation to the accuracy, reliability or completeness of the information contained in this article for general information purposes. Meltwater makes no representations and, to the extent permitted by law, excludes all warranties in relation to the information contained in the article and is not liable for any losses, costs or expenses, resulting from any use or misuse of the article.