Brands finding new ways to activate around major events – whether sponsors or not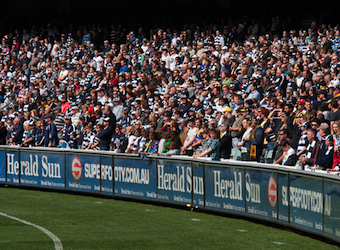 Brands are finding new ways to engage with consumers when it comes to major events, whether they're an official sponsor or not.
Managing director of sponsorship agency Bastion EBA, Jack Watts, says the shift is the a result of a change in the way consumers engage with sports and events.
"You used to be able to reach 80% of the population through channels 7, 9 and 10 on a Sunday night. Now it's driven largely through a social environment: 50% of 18 to 24 year old's conversations are entirely digital, so brands need to change as the way consumers converse and engage with sports and events changes," Watts tells Marketing.
During the recent Wimbledon tournament,  the social media team of liquor brand Pimm's capitalised on a tweet from Judy Murray (Andy Murray's mother) which saw it become the number one brand associated with the tournament across social media and other digital channels. This was despite the fact the iconic cocktail wasn't an official sponsor of the event.
Watts believes this kind of emotional engagement with consumers is the core element of sponsorship moving forward.
"It's about creating emotional connections with clients. We know they buy emotionally and we want to drive direct return investment opportunity. Certainly we're well down the track of moving away from slapping a logo somewhere and thinking that will do the job, it's part of a much, much broader partnership," he says.
With social media readily available to anyone, it's possible for brands to join in the conversation surrounding major events without having to pay the hefty price tag associated with being an official partner. However, Watts believes brands still need a credible reason to join in on the conversation surrounding such events.
"A brand needs a credible reason to get in on the conversation, if they don't people will see through it immediately and they'll lose credibility in eyes of their consumers. Brands who invest in rights fees will always have a credible reason to be part of the conversation," Watts says.
The importance of the role social media plays in sponsorship has grown so much, it's prompted Bastion EBA to build a full social media war room, giving them real time information on the conversations taking place during events.
"The war room allows our team to sit and monitor events: listen, provide insights and take action on what's being said so we can maximise it and promote the conversation," Watts says.
Social media activations are a big part of creating an emotional connection with consumers as brands strive to put themselves where the consumers are.
The trend is likely to continue to surge as activation through social media allows brands to reach a broader audience through a much lower cost.