Aussie app harnesses mobile micro-donation technology for charities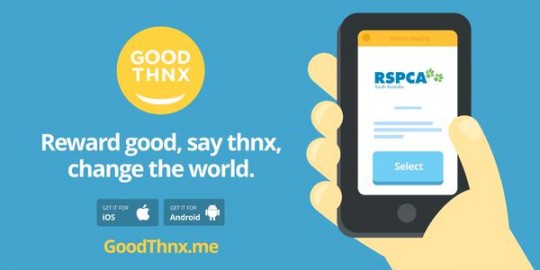 Big name charity brands including Beyond Blue, St Vincent De Paul, the RSPCA, World Vision and WWF are turning to technology to bring about positive change with a world-first app.
Good Thnx, an Australian innovation designed in Adelaide, allows users to reward people for acts of kindness by sending a 'thanks' and a small donation to a charity of the recipients choice.
The app is a powerful example of how technology can be used in a positive, meaningful manner.
The app is intended to make it easier to make micro-donations to worthy causes, while significantly lowering the associated fundraising costs of registered charities, with no direct cost for a charity to be listed, or for the receipt of donations.
WWF Australia CEO Dermot O' Gorman believes the service is an innovative way for users to say  thanks by making a meaningful difference to the environment.
"Whether it's building a sanctuary for rock wallabies, or helping Indigenous rangers to save our marine turtles, WWF's work is only made possible through the generosity of our supporters. Good Thnx is an innovative way for Aussies to say thanks to their mates, while also making an important contribution to preserving our natural environment," said O'Gorman.
RSPCA South Australia CEO Tim Vasudeva is excited about the possibility of people being rewarded for rescuing animals in need.
"I'd love to see Australians saying thanks to those who adopt rescue pets. Animals truly are man's best friend, and we are so thankful to those who are compassionate enough to adopt and give a second chance to an animal in need," said Vasudeva.
The service is currently available for users to access for free online and via the app store.