'Digimums' drawn to social networks to keep track of kids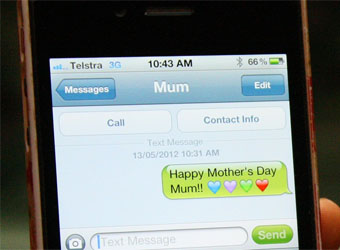 Mothers are turning to social media to hold onto children who've flown the nest, friending their children in increasing numbers, according to a Mother's Day press release from Telstra.
The research, conducted with over 1000 Australians, found four in five mothers have 'friended' their children on at least one social network, and that in most cases the online relationship is an amicable one, with only one in ten admitting to being 'defriended'.
The research reinforces the online networking trend of mothers with children at home, as well as those with older children; according to director of consumer marketing at Tesltra, Maryanne Tsiatsias, 62% of mums regularly use Facebook, a figure up from 47% in 2009.
"The explosion of internet connected devices from smartphones to tablet PCs means social networking is a crucial tool for Aussie mums to stay in touch and keep an eye on the content of their kid's online pages.
"Interestingly, older mums are embracing their 'digimum' persona, with more than half of mums over 55 years using social networking sites to keep track of what their kids are up to."
While an online relationship is something many mothers are seeking out, children thinking of using social media as an easy way to wish mum Happy Mother's Day should think again. "The overwhelming majority of mums want to speak to their kids on Mothers' Day, with 80% identifying it as their preferred contact method," Tsiatsias adds.
In its infinite wisdom, Telstra has created a top tips for digimums list, counselling mothers not to be too suffocating, embarrassing, click-happy or revealing. The press release reads, "It's their time online too, so give them some room" and "Watch where you click… it's all too easy to accidentally 'like' a random photo and reveal your snooping ways".