Domino's CMO on the pizza chain's new 24/7 social media efforts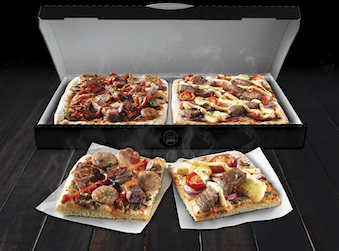 Pizza chain Domino's has increased its social media presence to include round-the-clock monitoring across all platforms. A little excessive? Absolutely not, says Domino's CEO, Don Meij, who told the press last week the move is "absolutely necessary and companies that aren't following in the same footsteps will miss out on valuable customer interaction."
A team of seven has been employed over at Domino's HQ to monitor all of the pizza chain's social media channels around the clock. Marketing spoke to Domino's CMO Allan Collins about the companies new social media strategy.
Marketing: What made you guys decide to employ a 24/7 social media service? Was there a specific incident that influenced this decision? 
Collins: It's kind of like a progression thing for us to be honest, like when we first started on social media platforms like Facebook or Twitter it used to be done by our PR person and then we gradually began to engage more with consumers.
We noted that we couldn't get back to them [customers] quick enough and for me, that wasn't acceptable, then it grew and then we were like "let's hire a team of people."
We tried to get back to people within 20 minutes and from there it just grew and grew. People began asking us questions outside of work hours and I'm the same, when you finish a day's work, when you ring up a bank for example, you want to speak to a real person, you don't want to wait overnight. So basically now,  if you've got a question, and if you have a question you want an answer, you don't have to wait.
How many people do you have in your social media team?
It's seven people working around the clock in split shifts. Someone during the day and then at night and all weekend.
Do you see other companies following suit?
I reckon people will follow us. I can see people already following us.
How has social media affected your brand and your business?
It's the core of what we do, it's our new positioning for the brand, it's now 'people powered pizza', it's our tagline because it's the core of what we are.
We relish in getting consumer feedback, and it's part of every part of the business. Constantly listening to our consumers, being responsive, hearing what they have to say, always trying to improve always better, so it's not just a token gesture.
Do you have any examples of the effect the increased focus on social media has had on the business? 
Gone are the days where you spend hundreds of thousands of dollars doing focus groups – we still do it for bigger projects but now you don't need to. You don't have to spend hundreds of thousands of dollars on all this market research that iskind of staged. People are in these little rooms being moderated and then you have to wait a month or so to get the results. We actually ask straight away.
So it's almost helping you as much as it's helping the consumer around to listen?
It's real consumers, they're not being paid dollars to come to a focus group. These are real people. It's a real moment of honest truth they're at home eating their pizza here and there experiencing something that's either great or bad and they give us feedback. And it's our job to sit through all that feedback and look through big trends. Now when you go online and order a pizza, it unlocks certain stages of going real time online feedback, for example we can ask, "How was your pizza? Was the service fantastic? Please rate us, Would you recommend Dominos to your friend as a result of the experience you just had?" We get that feedback the next morning. So we are so responsive, I love it.
Are you able to collect a lot of data from this?
We get that data live and it comes through a report the next morning and we look at it. And we look at the trends. What have we done lately that's caused our service levels to drop or what's made our product scores drop a little bit? So it's really really good that every single department head looks at it.
And finally, how are you able to measure your return of investment on something that I'm guessing is costing you guys a fortune?
You know it's working because our sales are strong. That's to me is the true measure. We look at our sales every day through our customer counts growth. The key thing to me is our customer count growth. To me that's a really healthy sign of the business.
Not only are our sales going up, because you can hide weak business by keep putting your prices up but the key indicator to me is are we getting more customers coming to us. Social media has been one part of that, yeah we've been on a path of other stuff, improving our products, improving our service, updating our image, there's been all this other work happening but at the core of all that is being much more responsive to consumers and now technology's allowed us to do that.