Giant spider rides on Carnival Cruise ship for Halloween
Carnival Cruises is getting into the spirit of Halloween by cruising its superliner Carnival Spirit into Sydney Harbour with a giant redback spider on its bow.
The American cruise line chose the two-metre-high and 10-metre-wide native Australian spider as its Halloween trick after finding creepy crawlies top the list of things that most scare Australians.
Carnival Cruise Line surveyed more than 1000 Australians in the lead-up to Halloween and found that creepy crawlies scared people far more than public speaking, heights or the dark.
71% of respondents believe Halloween has become more popular in recent years. One fifth said they would like to see 31 October become a public holiday.
Carnival Cruise Line vice president Australia Jennifer Vandekreeke says:
"As an American cruise line, we could be accused of going a bit OTT with Halloween. It's a big event across our 24-ship fleet – including our Australian-based superliners Carnival Spirit and Carnival Legend – and we wanted to share some of that frightful fun with Sydneysiders by doing something big that screamed Aussie Halloween."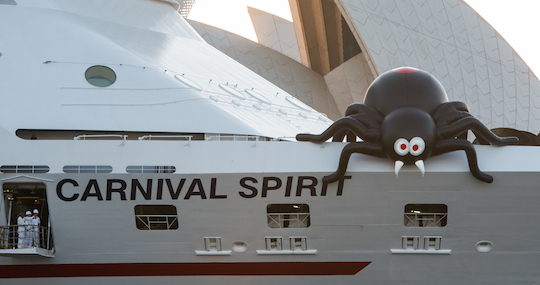 Other findings from the survey include:
a fifth of respondents believe Halloween is about scaring people,

31% plan to get dressed up and go trick-or-treating,

61% will stock up on lollies ready for trick-or-treaters, and

almost 40% plan to throw or attend a themed party.
As part of the Halloween campaign, Carnival Cruise Line is hosting a 'name the spider' competition.
People can come to Circular Quay in Sydney between 9am and 3pm today to post a photo of the giant spider to post with their chosen name to the company's Facebook and Instagram pages with the hashtag #CarnivalHalloween.
A post on the CarnivalOz Facebook page is also inviting "spooktacular names" in its comments.
Carnival Spirit is the company's largest and newest cruise ship to be based in Sydney year-round.