Illuminating Dark Social: understanding the hidden majority of social sharing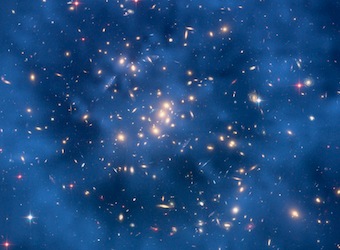 The power of 'Dark Social' as a marketing tool is both misunderstood and underestimated, but given it can account for more sharing than all the 'visible' social networks put together, we need to shine a light on it, writes RadiumOne's Kerry McCabe.
The potential to amplify and spread editorial content, images and native advertising executions outside of owned media environments is essential and valuable for marketers and publishers alike. To have recipients of shared content engage, at scale, is even better. Superb is when you know something about who is sharing, who is engaging and then have the means to create 1:1 conversations with these potential customers.
Many companies now have entire teams dedicated to understanding and creating and distributing 'social' content. The results are hit and miss and assessing ROI very difficult – what to do with the data and insights becomes a challenge. But there is another major force in social sharing that has existed under the radar and represents a huge opportunity for publishers and advertisers to glean valuable and actionable insights and data around potential new customers and audience, they call it 'Dark Social'.
'Social' has obtained a fairly narrow definition – primarily referring to Facebook, Twitter and Pinterest shares and posts. The many social sharing tools that are available analyse this social sharing and then leave sitting to the side a massive bucket of dark and unknown audience (often larger than the total of all social network attributed shares) called 'Other'.   What is 'Other' and what are we missing through not understanding 'Other'? 'Other' essentially means that we have no idea where the audience has come from. The answer often surprises people.
'Dark Social' primarily originates from content that is shared by a user copying and pasting content/links/articles, even paragraphs of text, from a site into their own email client and sending it to those people that they care about, those people who share that same interest, those people who are in reality their intimate social network (important other, close friends, work colleagues etc).
It kind of makes sense when looked at from a human sciences perspective. We have specific passions, interests and we share these with those whom we trust and value. Across over 260,000 large global sites at RadiumOne we see over 60% of all sharing happen in this manner – old school copy and paste link or article and send via email to those who matter and like what we like. When those recipients engage with that shared content they, and the originator of the sharing activity, become hugely valuable to publishers and advertisers.
Backing up our findings is a recent Chartbeat* article sourcing new data on many of their media sites, 69% of social referrals came from 'Dark Social' with just 20% stemming from Facebook.
The risk for brands and publishers is that if you don't understand why your traffic arrives, it's hard to form a strategy to better attract, connect and engage in a relevant manner – or to even start dynamically serving creative relevant to what you now know about that user.
By illuminating 'Dark Social' and tracking shared content patterns more effectively, marketers can begin to capitalise on this valuable social intelligence – to find their next customer. If you are like me and believe that sharing is in fact caring, and that people who share with each other have common characteristics, lifestyles, wants and needs, then you start appreciating the power of illuminating 'Dark Social' as a needle moving online marketing or audience acquisition strategy. 
Know your next customer
Marketers and publishers are beginning to sit up and take notice of the opportunity. It offers up a serious and lucrative new prospecting funnel that moves away from an over reliance on retargeting. The tools that have been developed enable publishers, advertisers and rights holders, such as sporting bodies, to understand this audience and to monetise them via actioning the insights in real time and connecting with the new audience programmatically – wherever they turn up on the open web or mobile. For publishers, knowing in real time what content is interesting and viral informs content creators and editorial teams of their audience preferences in real time.
Using this technology one large US publisher was able to increase their on-network audience by 33% with only minor adjustments to their content strategy. When looking at the data on a daily basis they saw that sports content – mostly baseball and football – actually drove significantly more sharing and new audience (via an auto-click back that accompanies copy and paste sharing) to their site than articles about crime and politics, triggering a decision to feature more sports articles on their homepage rotations as well as across their social media activity. An automotive brand was able to see an 80% uplift in an RTB campaign through targeting the recipients of shared content about their 'facelift' model.
Top tips for marketers to harness the power of their own "dark social" activity 
Track your own content: Use tools that have you retain control of your data (most social sharing providers either charge for the widgets or sell your data to third parties). Either way, ensure that you can then action that data and target against those prospects on the open Web and mobile. The ability to track and monetise native content is especially paramount to achieving distribution at scale.
Ensure that you have visibility into 'Dark Social' and the ability to connect with those audiences outside of your owned media assets and current retargeting practices. It could be that you are missing over 60% of the leads available to you.
Data and delivery should never be separated. Work with providers who can deliver an end-to-end service to gather and activate the data in real time. Just because somebody is interested and sharing content about your product today doesn't mean that they, or the recipients of what's shared, will be interested tomorrow.
Operate across all channels. Just as content is shared through a variety of platforms and devices, marketers should be ready to reach their next customer across display, video, social and mobile and be omni-channel enabled on a single platform for programmatic (RTB) buying.
Kerry McCabe is managing director, Asia Pacific, at RadiumOne.
* Chartbeat data referenced from The Atlantic (ALEXIS C. MADRIGAL)