Inside the Blue Room: content marketing lessons from one of Australia's biggest brand newsrooms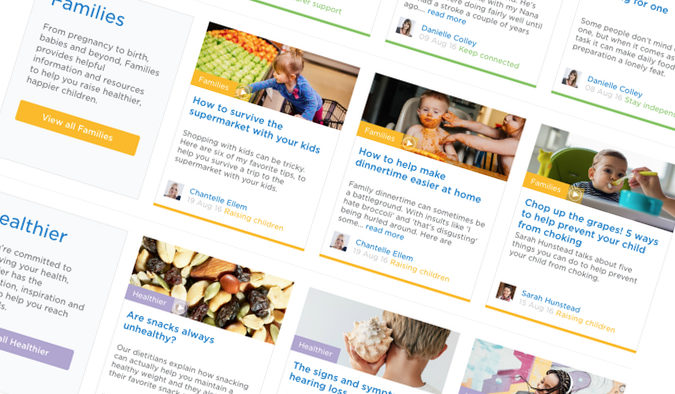 Lauren Quaintance chats to Bupa's Matt Allison on the challenges faced as it has gradually built one of the country's biggest brand newsrooms.

We've all heard the term 'Dr Google' and yet it might surprise you to know that, according to studies here and overseas, an astonishing 80% of people say they've gone online to search for information about their health. One American study even reported that looking for answers to health questions is the third most popular activity on the internet – only marginally behind checking email and using a search engine.
That presents a huge opportunity for healthcare companies prepared to invest in quality content, and Bupa has capitalised on that by quietly building one of the country's biggest brand newsrooms. Since launching just over a year ago, Bupa's Blue Room published 915 original articles, 152 videos and had more than two million unique visitors.
Research show those who have visited the Blue Room are around 79% more likely than non-visitors to believe Bupa has health care expertise, and almost three times more likely to consider buying health insurance from them.
Bupa's content marketing manager Matt Allison says the Blue Room was launched in May 2015 to address a customer need that in turn addresses a brand problem. "The customer problem is that there is so much health information out there that they're actually inundated," he says. "They don't know where to look, don't know what to trust and… there was no definitive [local] source or place to go when they had a health query."
Meanwhile, few Australians really appreciated the breadth of services Bupa offered from aged care to optical and dental to general practitioners. Through the Blue Room, Bupa has been able to subtly showcase their experts including in-house doctors and dentists and demonstrate that, 'Bupa is a lot more than just a health insurer'.
To succeed in content, Allison says Bupa's marketing team had to first demonstrate to internal stakeholders how focusing on the customer and providing something of value to them without selling would make a tangible difference to the bottom line.
"I actually look at the Blue Room as a change management program first and a content project second," he says. "You need to have a cultural shift in the business about the effectiveness of push and pull engagement…around having relentless focus on the customer and real customer centricity and how those two combined will deliver business outcomes."
When content is caught up in lengthy internal approval processes it can a major obstacle for success for brand publishers. Given the serious nature of much of the subject matter, Bupa needed to be sure that its content was medically and legally correct, while still trying to publish at speed and scale.
"From a Blue Room perspective, we're trying to operate like a publisher as opposed to like a brand… It's critical for us to ensure that the information is accurate but how can we do that in a streamlined fashion?" Allison asks.
---
READ: An accidental marketer: reflections with John Moore, marketing director Australia and New Zealand, Bupa »
---
With a clearly defined content strategy that sets out four pillars or 'life events' they want to own Bupa now produces almost 30 pieces of content a week. As well as their team of four, Bupa has called on an 'army' of contributors including qualified freelance journalists, bloggers and agencies to help them to produce quality at scale.
Allison says that using journalists to write Bupa's content has been crucial to building credibility because the Blue Room is competing against publishers such as Mamamia, Starts at 60 and Fairfax – not brands. "I'm looking at it from we are competing for audience interest and people have a finite amount of time to find the answers to the questions that they need," he says.
While the Blue Room used content discovery platform Outbrain to drive traffic post launch, Allison says their main source of paid traffic is now Facebook, which is "right content to the right person at the right time." That has its limitations though since it means the audience usually return to Facebook after reading one article rather than exploring the site.
Bupa is working to reduce its reliance on paid spend, focus more on SEO and has partnered with organisations like The Stroke Foundation to cocreate and coamplify content. "I don't think it's sustainable to pay to attract an audience indefinitely," Allison says. "We need to get to a stage where the Blue Room is the first place that people turn to from Google.
As The Blue Room enters its second year Allison is staying focused on an ambitious goal – to become the health destination for all Australians. While content will remain the "engine room" he is also looking at how Bupa facilitates conversations between people interested in health topics so the brand becomes embedded in people's day to day lives. "How do we reach the stage where there first place you think of when you want to know something about heart or stroke or cancer is the Blue Room?," he says. "That's the ultimate goal".
_
Lauren Quaintance is head of content for Sydney content agency Storyation. Bupa is a client of Storyation.