Queensland Government enlists TikTok influencer to battle cyberbullying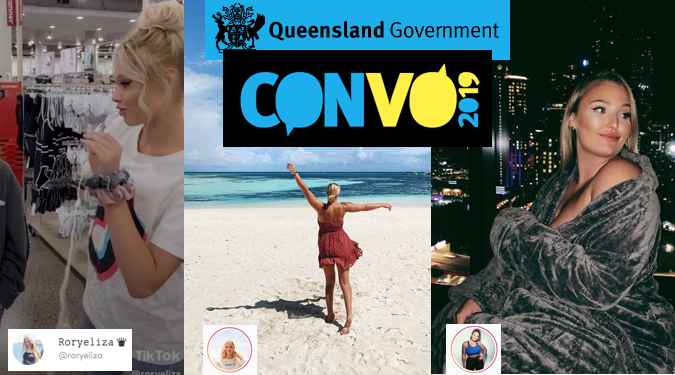 The Queensland Government is hosting CONVO2019 to combat cyberbullying, employing the services of TikTok, YouTube and Instagram influencers to open the discussion.
The event will be held in Brisbane on 21 October, featuring a panel discussion with 17-year-old TikTok influencer Rory Eliza – who has 990,000 fans on TikTok. Other panelists will include Instagrammers Nathan Charles, Elly Awesome and Riley Hemson sharing their stories of cyberbullying and advising young people on mitigation tactics beyond digital abstinence. 
The event is being held in collaboration with Born Bred Talent and Publicis Worldwide in an effort to raise awareness and protect young people from internet harassment.
"By partnering with social media Influencers, the Queensland Government recognises the positive and negative power of social media and the ability of the platforms to connect with young Queenslanders, especially those aged 13 to 17 who are vulnerable and at-risk to cyberbullying," says Clare Winterbourn, founder of Born Bred Talent. 
Winterbourn was responsible for hand selecting the six influencers involved in the event.
"The influencers involved in CONVO2019 are really positive role models for teens – there is Matt from Alright Hey who is a passionate advocate for the LGBTIQ+ community, Emma Carey who suffered a life-altering injury when her parachute malfunctioned but has learned to thrive in her new body and rugby superstar Nathan Charles whose 'I Will' attitude has seen him play for the Wallabies despite living with Cystic Fibrosis from three months old. 
"They are joined by TikToker Rory Eliza who was bullied in school and uses her platform to build and sustain resilience and Riley Hemson and Elly Awesome who are advocates for body positivity, inclusion and kindness," says Winterbourn.
Eliza, the 17-year-old close to a million followers on TikTok, says she's thrilled to be involved in the initiative.
"I'm excited to be part of CONVO2019 and to share my experiences with other young people," she says.
"I have experienced the impact of cyberbullying myself and know how devastating it can be, so I'm grateful that CONVO2019 is a chance for young people to connect with positive role models, be inspired, learn new ideas and develop solutions to combat cyberbullying if they experience it in their life." 
Last year, the Australian Government employed influencer marketing and things went a little awry. The Government's 'Girls Make Your Move' was criticised for enlisting Instagram influencers who had endorsed alcohol companies and extreme dieting products – one was forced to apologise for insensitive remarks made on her Twitter account in 2012. Read Marketing's full coverage »
Following that campaign's swift termination following plenty of bad press, Assistant Minister for Finance David Coleman declared that the Federal Government would no longer use influencer marketing in its campaigns for any department. "The Government has recently reviewed the use of social media influencers and determined that they will not be used in future campaigns," said Coleman at the time.
Further Reading:
Image credit: Rory Eliza, Em Carey, Riley Hemson and Queensland Government