News and magazine pages are Facebook's most successful – study
Australian news and magazine related Facebook pages are the fastest growing and most engaged with on the popular social networking platform, a new report by Online Circle Digital has found.
The 2015 edition of the annual Australian Facebook performance report, shows that the news and magazine industry experienced a significant surge in fan growth during 2015, with 6,373,206 users connecting to pages under the umbrella.
This was significantly more than second place, which was the electronics industry with 2,980,490 connections.
News and magazines also topped the all-important fan engagement category, with an average of 1,854,592 connections engaging with industry-related pages each week.
TV shows were the second most engaged with pages (99,487), followed by musicians and bands (42,722).
Engagement figures relate to a seven day period of data collection.
The average, which is taken daily, represents an average weekly figure of people talking about the brand.
The results are clearly supported by the top 30 ranked Facebook pages by audience engagement. Of the top 10, all except Australia.com, which came in at seven, are news, magazine, television or musician's pages.
Mamamia's popular women's network site, The Motherfish, was the most engaged with page with an average audience participation of 668,338 per week.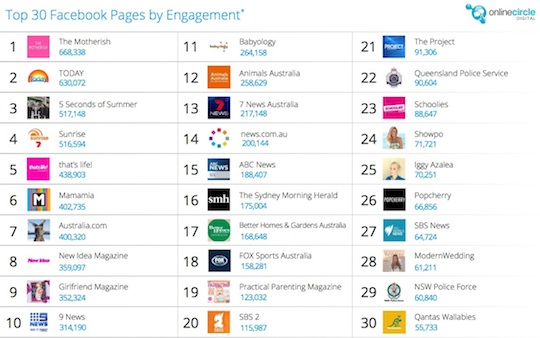 However, when it comes to the number of fans accumulated, musician and band pages were by far the most liked among users.
Popular band 5 Seconds of Summer (10,318,202) and hip hop artist Iggy Azalea (7,142,887) attracted the most fans, however given their international profiles, those results are unsurprising.
The popularity of Cricket Australia's domestic T20 competition, The Big Bash, was also reflected in the report.
The Sydney Sixers page was the second most liked Australian sport-related page with 755,427 fans, beating out the popular sporting codes the AFL, NRL and all of their affiliated clubs except the Queensland state of origin side's page, which has 822,459 fans.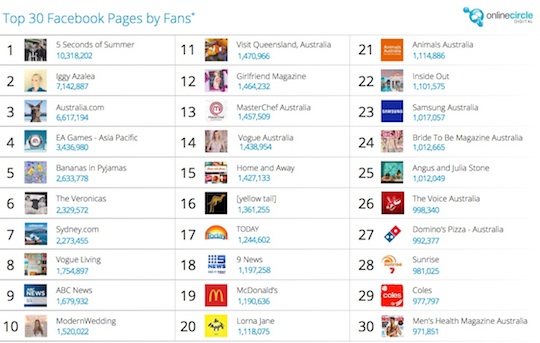 Former Prime Minister Tony Abbott may not have many fans within his own party, but his Facebook page attracted more likes and engagement than any other politician in 2015.
However it should be noted that engagement isn't a reflection of sentiment.
The report, which is compiled from data collected from January 1, 2015 to December 31, 2015, covers 29 categories and over 2,500 Australian brands.