10 trends in business intelligence for 2016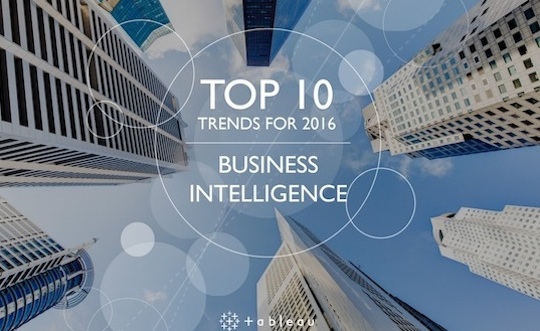 * Sponsored content: This article was commissioned by Tableau to promote a new guide, 'Top 10 trends for 2016 – Business Intelligence', available for download.
_
Tableau has released a simple, yet comprehensive list of its top business intelligence predictions for 2016.
In 2015 more businesses opened up their data to employees, as more people came to see it as an important tool in completing their work. The move was a significant change for the world of business intelligence and was driven largely by a combination of fast-moving technology and a wide-array of new techniques devised to get value from data.
Each year Tableau take an in depth look at the industry and compile a list of top trends for the following year. These are the predictions for the top 10 trends in business intelligence for 2016.
1. Governance and self-service analytics will become best friends.
People are more likely to use their data when it is clean and provided by fast data sources. As such, many organisations have discovered that data governance is a vital component to success, capable of both nurturing a culture of analytics, and meeting their businesses needs. For many years, people considered governance and self-service analytics to be natural enemies, but as the cultural gap between businesses and technology closes, more and more are identifying the benefits of the two working hand-in-hand.
2. Visual analytics will become a common language.
Data usage is dominating the way we do business, constantly being used to explore questions, uncover insights and share stories. This has resulted in people visualising their data, so it can be easily communicated with both data experts and non-experts respectively. As this trend continues to grow at a rapid rate, employers will look for candidates who are able to think critically with data. With a new wave of employees engaged with data, visual analytics is set to become a common language in 2016.
3. The data product chain will become democratised.
As the demand for self-service data preparation tools grows as a natural extension of self-service analytics, business users will have to be able to shape certain data on the go in order to stay iterative. As this democratisation occurs in a fast-paced environment, people will be able to respond quickly to changing priorities.
4. Data integration will get exciting.
2016 should see a number of new players in the data integration space, as companies stop trying to gather every byte of data in the same place. This is largely a result of a host of new sophisticated tools and the addition of new data sources.
5. Advanced analytics are no longer just for analysts.
As the role of data continues to grow, people are becoming more sophisticated in what they've come to expect from it. As such, in 2016, organisations will adopt platforms that let users apply statistics and ask a series of questions. This is all part of creating a company culture driven by analytics.
6. Cloud data and cloud analytics will take off.
As more companies use cloud analytics to process data faster, they'll come to rely on it as they would any other critical enterprise system. More and more people embraced the cloud in 2015, after realising that putting data in a cloud is highly scalable and very easy. This trend is set to continue in 2016.
7. The Analytics Centre of Excellence is set to become excellent.
2016 will see a number of organisations establish a centre of excellence, in a move to foster an adoption of self-service analytics. These centres are crucial, creating a data-driven culture through programs like one-on-one training and online forums.
8. Mobile analytics will stand on its own.
As the world continued its shift towards mobile, 2015 saw the emergence of products with a smooth, mobile-first experience. As this trend continues to surge, working with data out in the world will become a dynamic part of the analytic process.
9. People will begin to dig in to IoT data.
The Internet of Things will become even more prevalent in 2016 and as such, companies will look for tools that allow users to explore and share data in a secure and interactive way. As the volume of the data grows, so too will the potential for insights.
10. New technologies will rise to fill the gaps.
Business intelligence is a rapidly evolving landscape with a number of new technologies constantly being introduced. As these become available, gaps will appear in the market that need to be filled, which will result in new companies being introduced. As organisations continue to move away from single solutions and embrace new technologies, 'gap fillers' will become more and more prevalent.
_
Click here to download a copy of Tableau's full list of predictions »