Customer experience will finally take centre stage in 2016: study
Marketing professionals are putting a larger emphasis on customer experience than ever before, so much so that the importance of managing an excellent customer experience is increasingly setting the tone for other business priorities, a new study by Econsultancy has found.
The 'Adobe and Econsultancy Digital Intelligence Briefing: Digital Trends in 2016' study had over 7000 respondents, 16% of whom were from the Asia-Pacific region.
The findings clearly show that marketers are focussed on the individual.
When asked which three digital-related areas are the top priorities for their organisation, respondents indicated an emphasis on personalisation, social media engagement and content optimisation.
For example, in the Asia-Pacific region, 31% of marketers are prioritising social media engagement in 2016, a rise from the 28% recorded in the study last year.
On a global scale, both agencies and marketers said that the customer experience and the content that supports the experience is the most exciting opportunity for their organisation in 2016.
Using the necessary data to provide personalised, relevant messaging and service was also of high importance.
APAC marketers had the same view – 17% of marketers and 15% of agencies said that customer experience optimisation is the single most exciting opportunity for their organisation in 2016.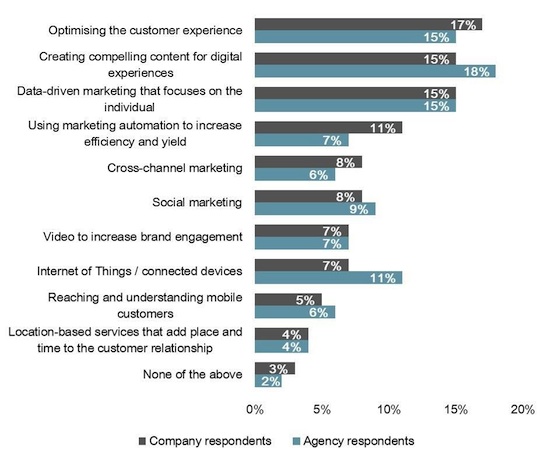 Looking forward, data is unanimously viewed as the key to the future by marketers around the world.
Individual-focussed, data-driven marketing and optimisation of the customer experience are seen as exciting opportunities in 2016, however their significance is set to rise, with many marketers seeing them as the most exciting opportunities in five years time.
The importance of data was highlighted on numerous occasions throughout the study, however data also poses a challenge going forward.
Marketers listed access and control over data as one of the top three obstacles to delivering great customer experience.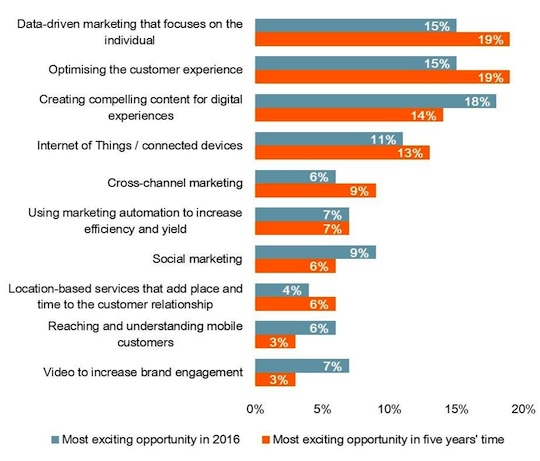 In order to achieve excellent customer experience, marketers need to collaborate so as not to provide a fragmented, misaligned experience.
Interestingly only 27% of marketers ranked collaboration as the most important component to customer experience success.