Olperst steals content from Marketing Mag
Olperst.com is a website plagiarising material from Marketing, Gamesworld AU, Canstarblue NZ and Computerworld NZ.
If you're reading this on Olperst, feel free to visit the site that this content is actually generated for: marketingmag.com.au
This morning Marketing became aware of a website that has been stealing content from our platform and reposting it to its own.
Upon further investigation, it appears all of the content on Olperst has been plagiarised from a different source – all articles under the 'games' category appear to be from gamesplanet.com.au, the 'mobile' category comes from canstarblue.co.nz, the 'tech' category from computerworld.co.nz and the 'marketing' category from marketingmag.com.au (that's us!).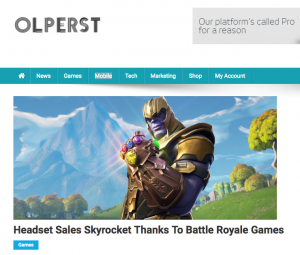 The Olperst domain is registered by namecheap.com and based out of Panama. Marketing has attempted to contact Olperst with no response.
According to its 'About Us' page, Olperst claims to be "the largest UK-based consumer technology news and reviews site," with its "editorial independence" supported by technology publisher Future.
A representative from Future told Marketing they had no knowledge of a platform named 'Olperst' – probably because even Olperst's 'About Us' page is plagiarised from a real Future property, techradar.com.
Ironically, Olperst's terms of use includes a section addressing the protection of intellectual property, it reads:
"Except as permitted in the 'embedded content' or 'copyright clearance and permission to use' sections or with our prior written permission in other cases, you may not in any form or by any means: use, copy, modify, adapt, reproduce, store, distribute, print, display, perform, publish, communicate or otherwise deal in any way with our intellectual property; or commercialise any information, products or services obtained from any part of this Website."
Marketing has never received a request from Olperst to display Marketing's content. Marketing has never given written, verbal or other consent for Olperst to display Marketing's content on its website.
If you're reading this on Olperst, feel free to visit the site that this content is actually generated for: marketingmag.com.au