VicHealth takes aim at alcohol brands on social media with underage call-out campaign
VicHealth has revealed its investigation into alcohol brands' use of social media and influencer marketing, launching a campaign to encourage 'calling out' of sneaky tactics targeting underaged drinkers.
New research from government-funded health foundation VicHealth alleges to reveal the 'murky nature' of alcohol promotion on social media.
"Our research shows the alcohol industry is employing tactics straight out of the playbook of Big Tobacco," says VicHealth acting CEO Dr Lyn Roberts.
A particular focus of the report was social media marketing that reaches underage users. Naming Instagram in particular, VicHealth says the alcohol industry is using the platform's popularity with young, 'impressionable' audiences as a key tool. According to Roberts, alcohol companies are using high profile influencers to "make their products appear glamorous and sophisticated to young people."
In addition, VicHealth takes issue with alcohol brands circumventing the disclosure of sponsorship through loopholes, like partnering with non-alcohol brands and events such as festivals. Branded collateral such as glasses and wine bottles are thus able to be featured as 'props' by influencers without the explicit mention of sponsorship.
"What's most concerning is that influencers and brands can get away with not disclosing paid content, making it really hard for young people to discern when they're being sold an ad," continues Roberts.
"We also know that young people who like or follow alcohol brands on social media are twice as likely to drink at risky levels than those who don't."
Related: Government drops influencer marketing following Health Department scandal »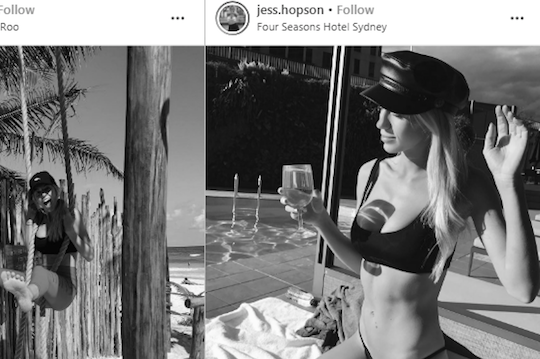 Detch Singh, CEO and cofounder of Melbourne-based influencer marketing agency Hypetap comments, "It's a serious brand safety issue not to provide disclosure in a sponsored post on social media, and brands need to be made aware of the risks involved by not doing so.
"In our experience working on influencer campaigns alongside some of Australia's most prominent alcohol brands, we've always insisted on sponsored content disclosure. This ensures all of our campaigns are following the AANA guidelines and the clients we work with have always been on the same page.
"It's disappointing to see campaigns being run, regardless of the category, where influencers haven't been compliant with disclosure. However, we certainly don't believe that it's systemic of the industry or any credible influencer marketing providers in the market. If anything it's a wake up call for brands to be more conscious of who they work with to execute their next influencer campaign to ensure it's done safely."
To combat the issue, VicHealth is launching Top Spin, its call-out campaign encouraging young people highlight 'sneaky' tactics used by the alcohol industry influencing them to drink.
"Top Spin is about turning the tables and encouraging young people to question the spin peddled to them by the industry," says Roberts.
The Top Spin campaign will run state-wide until 12 May, offering a $1000 prize each week to the most creative and thought-provoking submissions.
According to Roberts, the alcohol industry wants young people to think its products are 'glamorous' and 'fun', failing to take responsibility for the damage that may ensue; "We know that 40% of Victorians aged 18-34 drink at risky levels at least monthly. That might boost alcohol industry profits, but it's bad news for the rest of us.
"Concerningly, the number of young Victorians who end up in hospital due to alcohol has increased by nearly a quarter (24%) since 2009.
"Alcohol brands spend millions each year advertising their products to impressionable young people and it works – for every advertising dollar spent, young people drink three per cent more alcohol."
Further Reading: