Piggy-back marketing lands Western Union six-fold social boost
Banking institution Western Union saw its Facebook following jump from 160,000 fans to over a million in the past year thanks to piggy-back marketing initiatives around
Rio 2
 and the World Cup.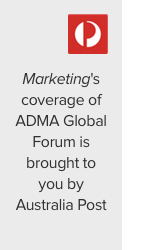 The bank created campaigns around events which it chose for broad appeal across its target market in order to boost engagement in what is traditionally a low engagement category on social media.
The first was the release of Fox Studio's animated movie Rio 2. "We needed a platform for 2014 that was bigger, something that had more scale," senior vice president of the bank's marketing team in North America, Laston Charriez, told the audience at last week's ADMA Global Forum.
"In the US, our customer base over-indexed for having children under six and under 18. Second, they watch a lot of movies, especially animated movies.
The bank gained full use of Fox's Rio 2 assets, had custom executions developed by the production house and even got hold of the script a year and a half before the movie's release to deploy creative across channels.
"We created digital, outdoor, radio, television, CRM, retail… everything surrounding the movie," Charriez said.
Performance of the campaign was strong across the board, Facebook being no exception with a 26% increase in likes and 7.4 times the engagement with posts on the bank's page.