Schweppes content play: Bolivian female wrestlers and 96% liquor cocktail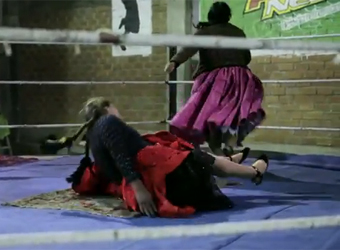 Female Bolivian wrestlers and 'firewater' liquour containing 96% alcohol feature in Schweppes Australia's latest branded content play as part of plans to invest over half of its budget in branded content in the year ahead.
The online content is part of the brand's 'Cocktail Revolution' website which is part of a drive to get people mixing drinks at home and give the brand a younger edge.
The latest video in the site's 'Knapsack Bartender' series sees bartender Jordan travel to La Paz, Bolivia, to meet the world's strongest women – a pair of female wrestlers — and mix a cocktail with the 96% caiman liquor, or 'firewater' as it's known to the locals.
Senior brand manager for Schweppes, Ben Goss, says the play takes an 'infotainment' approach – entertaining content that has an informative element to it. "It's a combination of learning about the strongest alcohol and learning about the strongest women in the world who are these Bolivian wrestlers," Goss says.
"There is the entertaining element to it and I guess the resolution to the spot is at the end he's making a cocktail, he's showing people how to make a cocktail with Schweppes mixers and sharing with the people."
The Cocktail Revolution was created to encourage people to mix drinks rather than default to beer or wine out of habit, and is an attempt to mirror the increase in people trying more exotic and adventurous things in the kitchen on the back of Masterchef and the Jamie Oliver Food Revolution.
It's also an attempt to give the brand greater resonance with a younger generation. "Schweppes has traditionally been synonymous with a 50 year old; it's a brand that your parents grew up with and so there was other ways for us to do try to do something a little bit more useful that would appeal to a younger demographic," Goss explains.
The content was created with the assistance of pop culture magazine Vice, just one of the media brands Scwheppes has partnered with to reduce content creation costs.
"We're not only just buying advertising space and cobranded opportunities with them," Goss reveals to Marketing. "We're having them produce the content for us on the back of the media buy.  So we're not spending lots of money on production."
Goss also told Marketing he plans to spend 29% of the brand's budget on content and 24% on experiences in 2013, while traditional media spend has dropped from 60% to 47% in the past two years.
'Stronest Women, Strongest Alcohol' follows episode one, which saw the Knapsack Bartender tapping 'Poyo' in Freetown, Sierra Leone; and episode two, where he drank Romanian liquor 'Palinka' and going to gypsy bars.