Sony bringing Google TV to Aus this week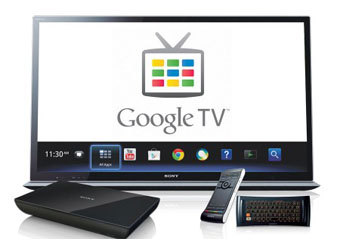 Sony will bring Google TV to the Australian market this week, bringing a raft of new content to its connected TV offer and an enhanced web surfing experience to the 'big' screen.
It will be delivered as a set-top box that allows users to access apps created specifically for Google TV, including YouTube, Twitter, streaming news, karaoke channels, and games from Google Play.
Sony's connected TVs already offer access to a range of online content including movie rentals, catch up TV and subscription music. Google TV isn't designed to replace these features, but rather complement them, says manager of network services and technology for Sony Australia, Paul Colley.
"The built-in Smart TV features in Sony televisions are all about the lean-back entertainment experience – select a channel or movie and then sit back to watch it," Colley says. "Google TV is about lean-forward interaction with the web."
"For example you've got the benefit of the full Chrome web browser with Flash support. It's the first good web experience on the TV."
Included in the package is a dual-sided remote control that has a touch pad and QWERTY keyboard for navigation, to make the internet browser within Google TV easier to operate. It also has a three-axis motion sensor for gaming, of which app developers will be able to take advantage.
"It's going to change the way we watch TV but it will also change the way we use the internet. If you're watching the marathon or the 1500m freestyle during the Olympics, for example, you might want to look up more about the athlete competing and you can browse a web page while you watch the TV on the same screen," Colley adds.
Initially, buyers will be forced to invest in one of two of Sony's Bravia TV models to get hold of Google TV, with the system only available as a package at launch. The Google TV set-top box will be released as a stand-alone product in the near future.