Squatty Potty enlists unicorns and magic to change the way the world poops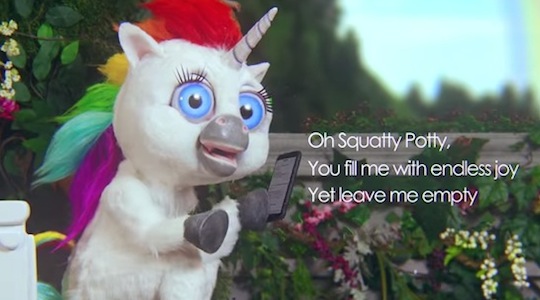 Squatty Potty, a US brand of toilet stools, has launched one of the strangest, funniest and surprisingly family-friendly video ads relating to colon health the internet has ever seen.
"Pooping will never be the same. And neither will ice cream." If you're a fan of rainbow Paddlepops, this video isn't for you.
The Squatty Potty is a toilet stool that has been featured on TV shows Shark Tank and Dr OZ and, according to the company, has thousands of happy customers.
It's a simple piece of plastic that may just transform a daily activity that you'd be forgiven for thinking was beyond disruption: going to the toilet.
The product has been around for several years now, but is on its way to international fame this week after launching one of the most colourful colon-health-related videos of all time.
In the spot, a unicorn shows the effects of improper toilet posture and how it can affect your health. And that's just the start.
Demonstrating the difference a lick of humour makes, in three days the unicorn video has already been viewed more times than Squatty Potty's first video, published more than four years ago, with the same message.
However, one thing that really leaves a bad taste in this reporter's mouth is the fact that the brand's stylish sculpted plywood model costs twice as much through the company's Australian distributor than it does in the US.