'Tis the season to think differently about sustainability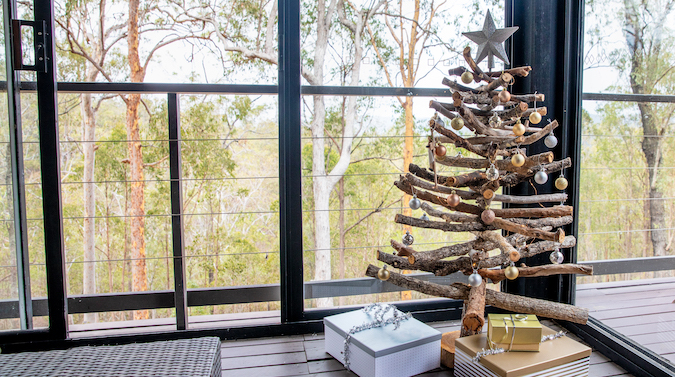 The push towards sustainability isn't slowing down, in fact, post-COVID it is amping up. In the lead up to Christmas, marketers need to truly understand environmental concerns and engage customers in meaningful ways accordingly, writes Kate Rourke.
The Christmas season has long marked the year's peak consumer period, from Australia's recent Black Friday enthusiasm to more traditional Boxing Day sales. But with COVID-19 rattling consumer confidence, businesses will need to find meaningful ways to engage customers this season.
Luckily, there's an option that's just as good for business as it is for the planet. And marketers have an important role to play.
Sustainability is a key concern for Aussies – even during Christmas. According to research for Getty Images' creative insights platform Visual GPS, completed in partnership with global market research firm YouGov, consumers' environmental concerns are stronger than ever. In the last year alone, searches for minimal and zero-waste Christmas appeared across the iStock and Getty Images' platforms for the first time.
As the festive season kicks into full swing, how can businesses talk about the holidays while responding to shoppers' concerns? And how can marketers adjust communications in a way that feels relatable and authentic?
Sustainability concerns aren't taking a break for Christmas
The research, part of a series that has now surveyed a total of 25,000 consumers globally, revealed that sustainability remains one of the top concerns driving purchasing decisions for Aussies and New Zealanders – more than half (52 percent) say they only buy from eco-friendly brands.
This points to more than a moral imperative for businesses to think about sustainability, particularly during peak consumer periods – it can also impact your bottom line. Consumers are increasingly interested in making more sustainable choices, with 75 percent of Asia-Pacific respondents saying they do everything they can to reduce their carbon footprint. Meanwhile, user searches across iStock and Getty indicate a growing interest in less wasteful ways to celebrate Christmas.
Businesses should be thinking about sustainable options for gifts and celebrations, but it's an issue that goes beyond products or services. A whopping eighty-five percent of Australian and New Zealand consumers expect companies to be environmentally aware in all of their advertising and communications, which means marketers and communicators have unique roles to play in shaping what sustainability looks like across different seasons.
How to make conscientious choices about the look and feel of sustainable celebration
The research points to a clear incentive for businesses to start thinking differently about how they talk about and depict sustainability. So what does that mean on a practical level?
Adjusting and expanding visual language can do a lot of heavy lifting. This is a low-cost yet impactful way to start normalising sustainable lifestyle choices, even – or especially – during major spending periods like Christmas.
Look for subtle details and authentic representation: Capturing authentic, relatable moments is important for engaging audiences regardless of context. Imagery can incorporate sustainability concerns through small details like showcasing everyday choices like reusable cups or metal straws. But Christmas and New Year's Eve will mean keeping an even closer eye on those details – look for images that avoid excessive rubbish, confetti or plastic waste from wrappings and gifts. Sustainable choices can be reflected through eco-friendly gifts or celebrations, like reusable gift wrapping made from cloth or minimal-waste presents like experience gift vouchers. Showcasing all the different sustainable choices consumers are making will resonate with concerns, normalise environmentally friendly lifestyles, and inspire audiences without preaching.
Think locally' Remember that consumers' concerns look different from region to region. In Australia and New Zealand, consumers' deepest climate worries relate to 'too much waste' and 'deforestation' – likely reflecting the ongoing impacts of Australia's bushfires.
Balance the positives and negatives: We found from our image testing that visual balance is key. Consumers need to see the impact we're having on the environment but also want to see the positive impacts businesses, groups and individuals are having on the environment. Of course, after a hard year and during the 'happiest season of all' consumers might want to see a little more positivity and celebration, so be sure to include the positive steps being taken by individuals and groups.
Keep it authentic and inclusive: Environmentalism affects everyone, regardless of age, sexual orientation, religion, culture or gender identification. Visual language needs to represent that. Even though different cultures might not celebrate Christmas or the same New Year, it's still a popular time for Australians and New Zealanders to come together, so look for diverse representation in your images.
Go beyond the usual images: Images of chimney stacks or polar bears on melting ice caps are a popular visual shorthand for environmental topics. But businesses should find ways to expand this visual language by incorporating sustainable concepts like 'circular economy', 'reusable' or 'energy efficiency'. Even better, visual content that depicts concrete actions and solutions can pre-empt feelings of helplessness.
Focus on togetherness rather than consumption: Finally, when you're thinking about a sustainability-minded audience, prioritise imagery that shows those more emotive and authentic moments of togetherness during Christmas. Especially after a year like 2020, and especially for the many Australians trying to reduce unnecessary waste in their daily lives, audiences may be less interested in consumption and material gifts. Instead, look for imagery that showcases reconnection with people, pets, communities and self.
With consumers starting to look toward 2021, readjusting your visual language on sustainability can be a smart way to shape broader social conversations and attitudes while also tapping into hopes for a better future.
As a small bonus, it might even put you on Santa's nice list.
Kate Rourke is the head of creative insights, APAC, at iStock by Getty Images.
Image credit: Belingda Howell, sourced from iStock.