Twitter offers $100 free advertising to promote new ad solution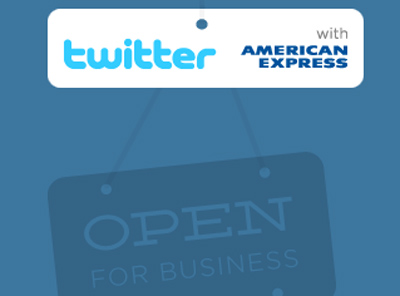 Twitter is gearing up for a major ad expansion by opening the testing phase of its self-service ad platform to small and medium-size businesses through a partnership with American Express.
AdAge reports that the first 10,000 AMEX cardmembers and merchants who register to use the platform will receive $100 in advertising credits to put toward bidding on promoted tweets and promoted accounts.
Twitter's CEO Dick Costolo says that opening up of the self-serve platform, which is currently used by around 100 trial partners, is a key development for Twitter as it steadily begins to boost its revenues.
"So many hundreds of thousands and even millions of small businesses have been using Twitter effectively for years already, so by [we're] opening up our ad platform to all these folks as a mechanism for them to amplify the value they're already creating," Costolo told AdAge.
Currently, an estimated 3000 business advertise on Twitter, which auctions promoted accounts on a cost-per-follower basis and promoted tweets on a cost-per-engagement basis.
According to Costello, small businesses will be more likely to bid on specific terms and localise their bids rather than compete with big business for keywords or hashtags associated with major events, such as the Oscars.
As a success story, Costolo names online t-shirt retailer Glennz Tees which reportedly used the self-service platform to double its holiday sales on the previous year by leveraging the appearance of one its shirts on TV show The Big Bang Theory.
The self-serve platform, which was launched to selected partners in mid-November, will go live for the first group of 10,000 businesses in late March before being rolled out more broadly.
According to AdAge, Twitter will also focus on reaching the political ad market and scaling its international ad offerings in 2012.