Using digital to build trust: How McDonalds is taking the conversation to the consumer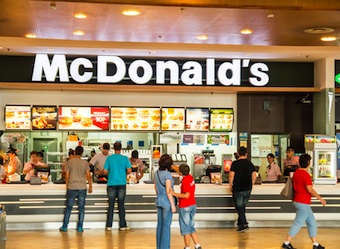 For the first time in the history of the world, people have more access to anything, anywhere, any place, with just the click of a mouse or the tap of a screen. While this empowers us to make better choices on our own terms, the increasing role of digital marketing in our lives means we also have to make informed decisions about who to trust and whether to create a more personal connection online (or not).
One way for brands to interact with its audience authentically, is by sharing and telling real stories – and it's exactly what McDonald's is doing as it embarks on its new digital journey.
Speaking at this year's ad:tech Australia, McDonald's head of digital marketing Mark Wheeler and DDB Sydney's Dan Lipman explained exactly how a powerfully engaging digital strategy is helping the brand change their consumers' perception of how McDonald's make their food.
It all started in 2012. There were a number of myths swirling around McDonalds food, causing customers to distrust the restaurant chain. McDonald's knew that their scale could be seen as a weakness when it came to food quality, but they also knew that truth trumps rumour, so they decided to let people find out where their food comes from, by themselves.
McDonald's Australia developed and launched a documentary called McDonald's Gets Grilled – a behind-the-scenes video about the company and its food. The video invited six real Aussie farmers to judge McDonald's food for themselves, answer questions about the food and give their opinion.
The video started an honest and open dialogue with Australians, whilst confronting a lot of the confusion surrounding McDonald's food sources. It was a huge success and to continue the conversation McDonalds launched OUR FOOD, a digital initiative where customers can personally ask questions about the food as well as track their own meal and where it comes from at the restaurant itself.
The 'Track My Maccas' app, which also helps you check the nutritional value and ingredients of the food you're about to eat, changes the supplier information depending on where you are in the country and which MacDonald's you're dining at. What's more, you can then invite your friends to get tracking too.
The app was created by McDonald's plotting 900 stores inch by inch around Australia, changed the packaging on seven products and then printed and shipped 188 million boxes ready for customers to track their food starting early 2013.
Overall, the experience was different and engaging, but most importantly, it helped McDonald's create authenticity and transparency with their customers. Users got to meet the real people – the farmers, growers and bakers – who provide the food and ingredients that they were about to eat.
MacDonald's also supported the campaign with PR and TV advertising, focusing on sharing the truth, and squashing the false rumours around McDonalds. The app was downloaded once every minute in the first month and the online videos and social media platforms continue to direct people to the website to 'ask Maccas' their question!