Adapt to digital or perish – study
If the old marketing notion that 'you want to be where the people are' is true, then it's no wonder that brands have flocked to online mediums in recent times.
88% of Australians are active internet users, a recent report by socially-led creative agency We Are Social reveals.
21.2 million of Australia's population of 24.1 million people, were listed as active internet users, and in a further sign of the rise of social media, 14 million people were listed as active social media users – which highlights the need for companies to have a strong social media presence.
Facebook was the most widely used social media platform among Australians, with 44% of people listed as having a profile on the site.
However the results weren't restricted to Australia.
The survey covered 232 territories across the globe and revealed the internet reaches 46% of the world's population, with 3.46 billion people identified as active internet users.
On top of this, it was revealed that 2.31 billion people – 31% of the global population, are active social media users.
We Are Social managing director Suzie Shaw said that the results highlight the power of social and its ability to drive business growth, particularly in Australia.
"We're a connected and highly social nation. We were relatively early adopters of social media and have continued to embrace it over time. This is why social has become a mainstream media channel and brands are only just beginning to realise the power of social to really drive growth in their businesses," Shaw said.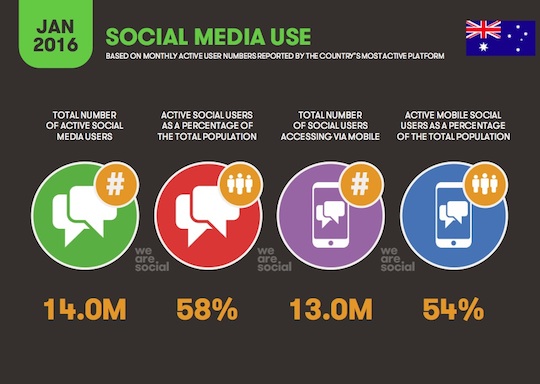 The need for brands to adopt innovative mobile marketing strategies is also highlighted, with mobile penetration reaching 51% of the world's population.
On top of this, 27% of the global population access social media via mobile.
This was further highlighted in Australia, where findings revealed that 91% of Australians own a mobile phone of some description, whereas as fewer people (80%) were listed as having a desktop computer or laptop.