Australian ecommerce grew 22% in the past year
Ecommerce transactions in Australia have grown 22% in the past year, according to payment platform Eway's Q1 2015 report.
The report predicts 2015 will be a record year for online shopping, with Q1 results down what is considered "only a marginal" 6.9% on Q4 2014, which is the key retail quarter of the year.
The Eway statistics take into account the company's consistent market share and business growth over the past year.
Click graph to enlarge.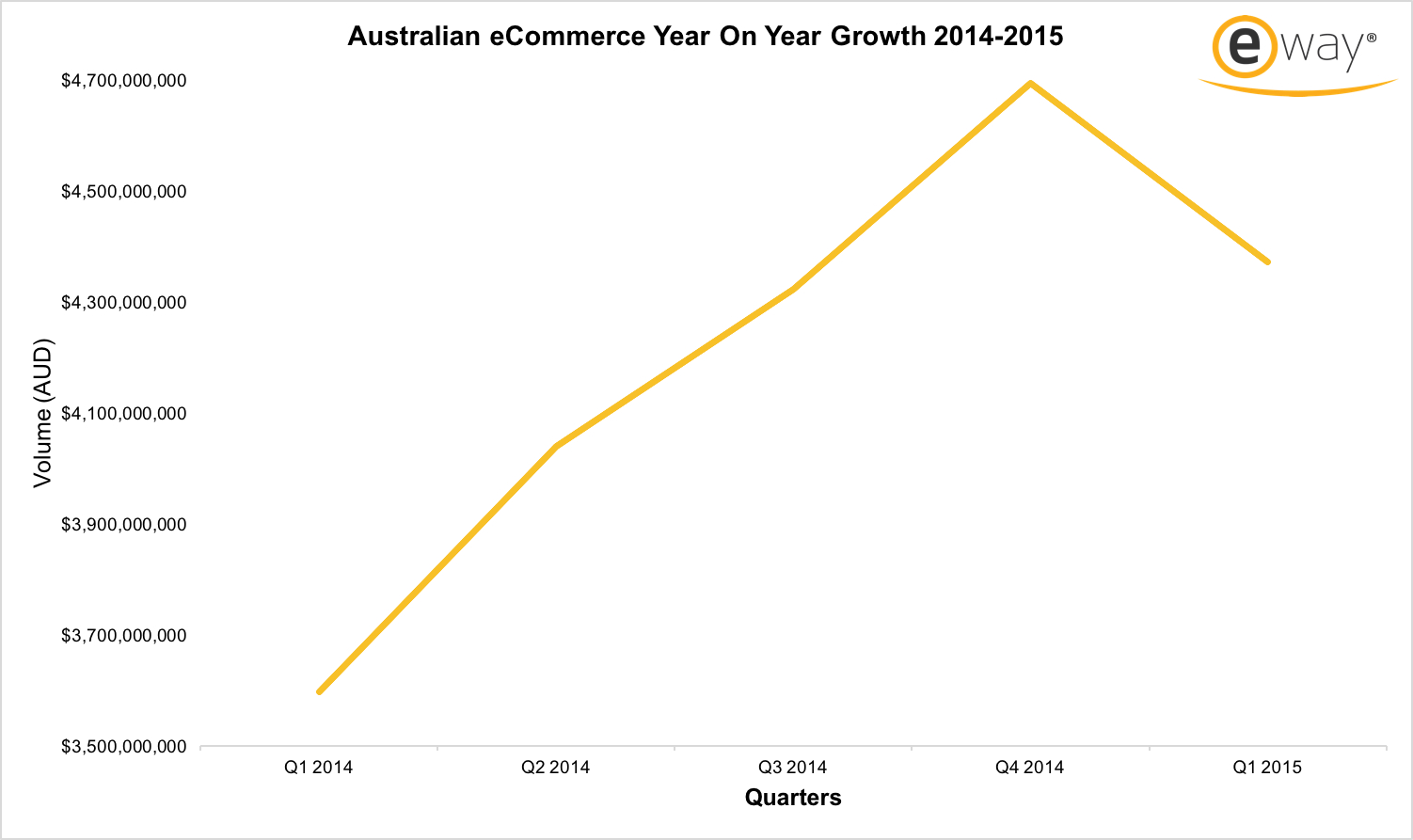 Melbourne CBD retained its title as Australia's top online shopping city, while people in Sydney CBD spent the most per transaction.
2.59% of all local parcel deliveries went to Melbourne CBD, and 1.85% to Sydney CBD.
People in Sydney CBD spent an average of $285 per transaction compared to Melbourne's $160.
Toowoomba, Queensland is the top regional town for online shopping. Since Q1 2014, residents of Colac, Victoria, and Blacktown, New South Wales, boosted their levels of online shopping to bring their towns into the top 20 regional locations.
The most popular day of the week to shop online is Tuesday, and the most popular time of the day is between 6pm and 9pm.
Top performing categories for the quarter were household items, discount stores, electronics, travel and education. Restaurants grew strongly by 151%.
Purchases sent to international addresses is up nearly 30%.
Eway founder and CEO Matt Bullock says this represents an opportunity to Australian ecommerce companies.
"There is a clear window of opportunity for small businesses to open up their offering to global markets, if they are not already. The increasingly sophisticated and cheap postage services make this more feasible than ever."