Australian mothers' smartphone habits revealed
Australian mothers use their smartphones to enter competitions and read online catalogues more than the average user, but are far less likely to use them for media and entertainment purposes.
A new study on smartphone habits by Roy Morgan Research shows that Mums are 66% more likely to use their phones to enter competitions online and 54% more likely to read online catalogues compared to average smartphone users. Mothers are also more likely to look at health and medical information (49% more likely), participate in online auctions (43% more likely) or play games online (42% more likely).
But the study shows that they are far less likely to use their phones for media/entertainment purposes: they are 47% less likely on average to download podcasts on their smartphones, 32% less likely to stream video and 27% less likely to access news.
Click image to enlarge.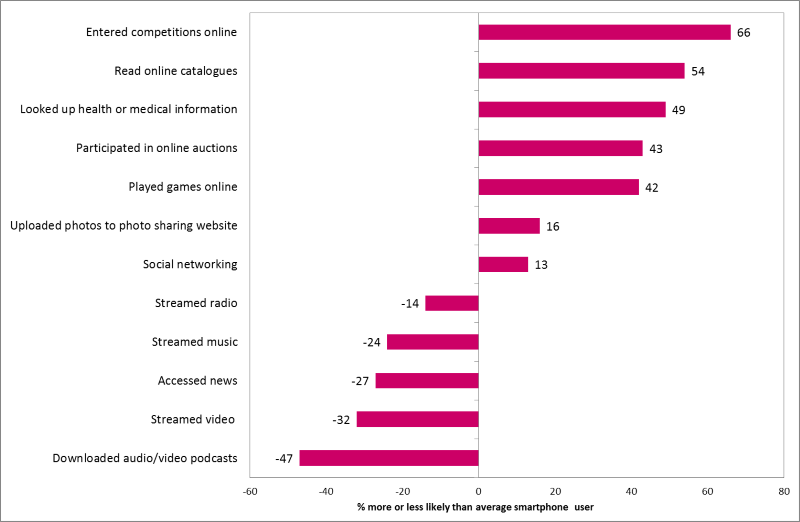 Tim Martin, general manager of media at Roy Morgan Research suggests that despite a growing overall audience in mobile, brands should take a more targeted approach when advertising to this market.
"Digital advertisers need to be aware that this valuable target market may not be as reachable via mobile as growing overall audience numbers suggest, and better targeting would maximise advertising ROI," Martin says.
Conversely, the study also shows that men with children in the home are using their smartphones for personal entertainment as much as or more than the average user. Dads are 28% more likely than the average smartphone user to access news, 26% more likely to stream radio, 15% more likely to download podcasts, and 3% more likely to stream music in a four week period.
The study surveyed the smartphone habits of almost 2000 Australian women with smartphones and children in the home during January to December 2014.