iPad targets classrooms in response to declining tablet market share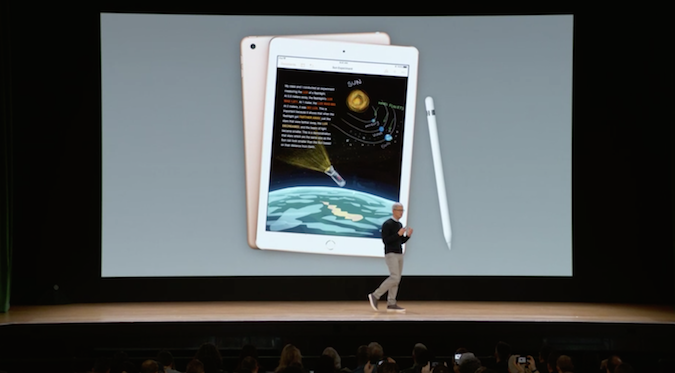 Apple's latest iPad has a focus on education, building on its 'Classroom' app and extending features and capabilities for teachers to work with students in the Apple ecosystem.
With Apple's share of the tablet market steadily declining, the tech giant is aiming to secure its monopoly in education aid technology. The new iPad is now being framed specifically for the classroom, will be armed with Apple's A10 processing chip, TouchID, high definition rear- and front-facing cameras and Apple Pencil compatibility. The new tablet was launched at a special education event held in Chicago on 27 March.
The Apple Pencil has previously only been compatible with the iPad Pro series of tablets, according to Apple this accessory will allow students to use the iPad in a more engaging manner. With specific updates to the existing the iWork platform and the Classroom app, Apple is adding Smart Annotations and live screen sharing – enabling teachers to view and share work on student's screens in real time.
Additionally, Apple is introducing 'Shared iPad', which allows students to pick up any iPad in the school, and in under a minute update that device with their personal setup of apps, documents and assignments.
"iPad is our vision for the future of computing and hundreds of millions of people around the world use it every day at work, in school and for play," says Apple's vice president of product marketing Greg Joswiak. "This new 9.7-inch iPad takes everything people love about our most popular iPad and makes it even better for inspiring creativity and learning."
Apple will be launching the new iPad with partnered accessories by Logitech tailored to the classroom. The Logitech Crayon will be available to only educators, offering almost identical functionality to the Apple Pencil and working with multiple synced tablets simultaneously, at half the price.
Learning doesn't come cheap though, the base model 9.7 inch iPad will retail in Australia for $469, with schools being offered a whopping $30 off. Additionally, Apple's flagship accessory – the Apple Pencil – will continue to retail for $145 to the public, and $129 for schools.
According to Statista, the iPad held only 26.6% of the tablet market in the final quarter of 2017, relative to its 60.3% market share in 2012.