Business intelligence and analytics vendors: Magic Quadrant report for 2014
The market for business intelligence (BI) and analytics platforms is one of the fastest growing software markets and will remain so for the foreseeable future according to technology analyst firm Gartner, with growth predicted at 7% (CAGR) through to 2017.
This week the firm has released the 2014 version of its Magic Quadrant report for business intelligence and analytics platforms. The report's authors write that data discovery tools are dominating new purchasing requirements, but that no single vendor has solved the challenge of meeting the dual demands of enterprise IT and business users – a concept referred to as 'governed data discovery'.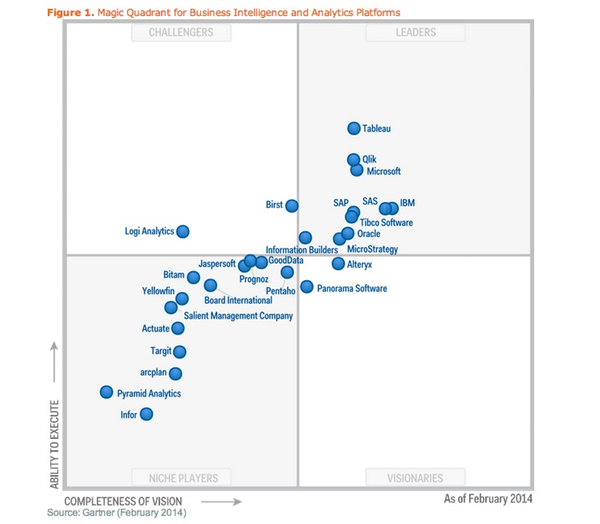 Definitions
Leaders: "Leaders are vendors that are strong in the breadth and depth of their BI platform capabilities, and can deliver on enterprise-wide implementations that support a broad BI strategy," Gartner explains.
"This year, we have moved the entire Leaders quadrant to the left on the 'Completeness of Vision axis', reflecting the currently unoccupied 'governed data discovery' segment. Although all vendors are seeking to achieve the ultimate goal of providing both engaging business-user-oriented capability and enterprise features that enable IT governance and control, none has yet achieved this. Bridging this chasm will be crucial to achieving leading market share, mind share and momentum in the BI market."
Challengers: "Challengers are well positioned to succeed in the market. However, they may be limited to specific use cases, technical environments or application domains."
Visionaries: "Visionaries have a strong and unique vision for delivering a BI platform. They offer depth of functionality in the areas they address. However, they may have gaps relating to broader functionality requirements. Visionaries are thought-leaders and innovators, but they may be lacking in scale, or there may be concerns about their ability to grow and provide consistent execution."
Niche Players: "Niche Players do well in a specific segment of the BI platform and analytics market, such as reporting, dashboarding, collaboration, embed-ability or big data integration, or have a limited capability to innovate or outperform other vendors. They may focus on a specific domain or aspect of BI, but are likely to lack depth of functionality elsewhere."
Evaluation
Vendors are evaluated based on their ability to execute and their completeness of vision.
'Ability to execute' includes the criteria: product or service; overall viability; sales execution/pricing; market responsiveness/record; and, customer experience.
Completeness of vision includes the criteria: market understanding; marketing strategy; sales strategy; product strategy; vertical/industry strategy; innovation; and, geographic strategy.
Eligibility
To be included in the Magic Quadrant graphic, software vendors had to meet all of the following criteria:
Each had to generate at least $15 million in total BI-related software license revenue annually,
in the case of vendors that also supply transactional applications, each had to show that its BI platform is used routinely by organisations that do not use its transactional applications,
each had to deliver at least 12 out of the 17 capabilities in the BI and Analytics Platform Capabilities Definition (OEM components from other vendors were not included), and
each had to receive a minimum of 30 survey responses from customers that use its platform in a production environment.