Can the market for design be redesigned?
Business leaders who understand market-design rules are in a prime position to out-innovate their competitors, writes Sérgio Brodsky.
Design-led businesses keep talking about the future of design and innovative wonders they can bring to the world. But, have they stopped to analyse and understand the current state of the design market?
A feeble attempt came from an opinion piece written by 'Starvertiser' Adam Ferrier and published by Mumbrella ('Is the ad industry much of an industry at all?' 22 December 2014). Although the piece does not target the design market specifically, it overlaps it by questioning the behaviour of different players in the creative industries and whether or not they constitute an industry at all. Despite some interesting pondering, it takes some serious analyses to be a market shaper, as recently mentioned by The Economist.
This is my attempt to add substance to the discourse, contributing more with proven approaches, real examples and less gut-felt epiphanies.
Alvin Roth, author of Harvard Business Review article 'The Art of Designing Markets', explains that, to function properly, markets need to provide three things: safety, thickness and the ability to overcome the congestion thickness can bring, meaning:
Safety: making it safe for market players so they can reveal or act on confidential information they may hold, work collaboratively and, this way, improve efficiencies.
Thickness: bringing together a large enough proportion of potential buyers and sellers into a safe environment enabling satisfactory outcomes for both sides of a transaction.
Congestion: may happen as a consequence of too much thickness and can be avoided by giving market participants enough time –or the means to conduct transactions fast enough – to make satisfactory choices when faced with a variety of alternatives.
When it comes to safety, ensuring appropriate IP (intellectual property) protection allows a better flow of ideas and opportunities for co-creation.
However, according to 'The Market for Design', a research report commissioned by IP Australia, "The formal protection of intellectual property through design rights plays a minor role in the decision-making of firms operating in the market for design".
In turn, what really counts are reputational signs characterised as the five Rs: rigour, rhetoric, roster, rating and referral.
Rigour: actions that indicate the seller is committed to a high level of effort,
rhetoric: actions that demonstrate the seller's expertise and design philosophy,
rating: external validation of the seller's ability, skill or prestige,
roster: quality and prestige of prior clients, and
referral: a valued recommendation from a reliable source or indirect tie.
Conversely, for those buying design as a process (the assembling of information, through which inventions or innovations are matched to market opportunities; i.e. design thinking), artefact (a new product) or capability (know-how or specific skills), choice is assessed by the four Cs: contests, co-creation, curation and casting.
Contests: inducing sellers to reveal information competitively (i.e. the pitch process),
co-creation: costly participation by the buyer in the development process (i.e. working collaboratively),
curation: choices that reveal a consistent, knowledgeable, hence desirable business partner (i.e. a robust thought-leadership track record), and
casting: appointment of key personnel to specific roles (i.e. pitching a great team).
With the above in mind, there seems to be an imbalance of form (and formalities) over substance. That means the avoidance of pursuing IP protection sends the following messages:
My design work is not that unique so I can't really patent or copyright it, and
I'm so confident about myself and my firm that I don't care if others try to replicate my work, as it'll never reach my standards and reputation.
Consequently, this type of behaviour, perpetuates the difficulty of translating design efforts into tangible value and contributes towards educating clients to believe that they can 'design' without having to 'buy'. Moreover, it also represents an open invitation for new entrants, like 99designs or Fiverr, to disrupt the design market and debunk the 'reputation advantage'.
Regarding 'thickness', signs are brighter. According to 'The Australian Creative Economy Report Card' (2013), employment in design grew at 3.8%, twice the rate of the Australian workforce as a whole. However, there is still plenty of untapped potential until signs of 'congestion' can be noticed. 'Thickness', therefore, is the strategic pursuit worth prioritising over 'congestion'.
A framework for service innovation
From business owners, to managers, employees and entrepreneurs, maybe a first step is to start redesigning their service offering. An edifying framework (pictured), explained in the article 'Creating New Markets through Service Innovation' (MIT Sloan Management Review) provides a robust approach on how to fatten-up Australia's design sector and, in fact, any sector.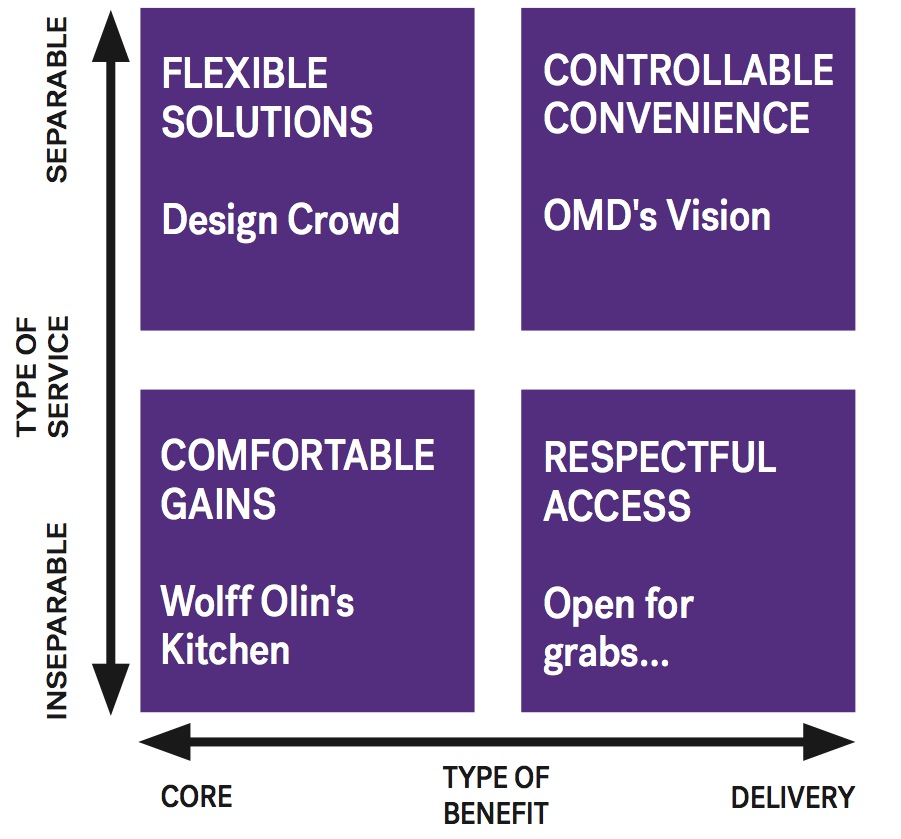 Briefly, this is what each quadrant is trying to do:
Flexible solutions
This is about offering a new core benefit that can be consumed apart from where and when they are produced, removing the constraints of time and place.
DesignCrowd (along with Fiverr and 99designs) is a perfect example. Besides plunging prices way down by removing the overheads of time and place, crowdsourced designers are constantly pitching their ideas against a given brief, greatly helping buyers on the selection process.
Controllable convenience
This is about putting customers in control of how they access a desired service.
"Creative service system design and technology application can enable customers to reach and use a service more easily – and can open up untapped markets," as proposed in the same article.
At media agency OMD, where I work, we have Vision, our global digital platform that brings our clients from the back row to the front seat of insight, strategy and implementation enabling them to co-create the inputs and outputs of their respective accounts.
Comfortable gains
This happens when innovations enable the service to be consumed at the time and place of production, affording substantially new experiences with direct benefits to customers' emotional or physical comfort.
Brand Consultancy Wolff Olins has just celebrated the first anniversary of Kitchen, its education-arm SBU, setting an interesting direction to those playing in this same space.
From long marathons, that could take months, involving the traditional discovery-design-deploy, design firms or departments could allocate days to literally 'hack' into their clients' lives and facilities to deliver customised solutions in loco. Casting the right team to perform on short yet intense bursts, could help convince clients to engage on longer, riskier and higher-budget projects.
Respectful Access
This is about demonstrating respect for customers' time and physical presence in using the service. Beyond making your clients' lives easier this is about addressing pain-points that demonstrate true consideration.
The briefing process and rounds of design reviews represent possibly the most painful stages of a design service. It often happens that clients feel stupid because they find it hard to fill in a brief, provide feedback or confirm they really know what they are asking for. Design consultants and designers may experience the same frustration not only with clients but, at times, among themselves. This is a challenge that opens up the opportunity for curated choices to be presented when scoping a job.
The wrap
In summary, in order to succeed in the Australian creative industry one must ensure his/her business has:
A healthy new business development pipeline, as to ensure market thickness,
an impeccable reputation backed by appropriate IP protection so information can be shared more freely,
a sharp point-of-view backed by a team that reflects those values and enough openness to collaboratively engage with client and third parties, and
a type of service that disrupts competitors' offerings, enabling unique benefits and limiting imitation.
When business leaders understand market-design rules and the types of service-innovations that lead to new markets they can out-innovate their competitors and reposition their companies for sustained growth and profitability.