Choosing marketing dashboard metrics that matter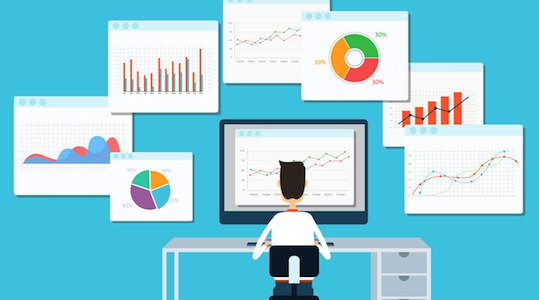 This piece was produced by Marketing to promote the Tableau Software report, 'The Must Do's of Marketing Dashboards'.
Having the ability to visually display marketing information in one place is becoming more and more important since more than half of marketers are using up to nine different channels to target customers.
Marketers in Australia today have an unprecedented number of ways to communicate with existing and potential customers. Industry reports point to the continued democratisation of channels, driven primarily by digital, mobile and social.
"I believe that the rise of wearables and the internet of things will continue to drive the rampant digitisation of consumer journeys and trigger a data explosion," says Nigel Mendonca, Tableau Australia's country manager. "In a world that runs on real-time data, it'll no longer be believable for marketers to opine about which half of one's advertising dollar gets wasted, especially among CMOs who are able to see and understand performance data by themselves."
As businesses continue to face the challenge of gaining valuable insights from data, marketers are looking to unify customer, campaign and sales data – including both digital and offline data – into one 360-degree view.
Modern marketing dashboards, according to Tableau, feature the following core characteristics:
objectives-focused,
optimised for multiple data sources,
visual,
interactive,
current, and
accessible to the audience.
Creating and deploying an effective marketing dashboard requires a clear understanding of your organisation's goals and how your team plans to use the information. Tableau Software's report, The Must Do's of Marketing Dashboards, outlines the six best practices that should be followed.
1. Choose metrics that matter
Above all, the metrics for your dashboards must be metrics that are actually relevant to the goals at hand. Your team should be highly selective in determining which metrics earn a spot on your marketing dashboard.
Consider the following when choosing your metrics:
What are your organisation's core objectives?
how do your campaigns and marketing efforts contribute to those objectives?
do you have data, either internal or external, that can shed light on the objectives?
can you design a meaningful metric that measures those contributions?
is this metric truly necessary to explain marketing's contribution to the objectives?
can you build a systematic and on-going means of measurement?
Have a clear understanding of executive objectives and how marketing contributes.
If your company is in growth mode and new customers are key, then measure your new customer acquisition rates,
if top-line revenue is high on executive management's priority list, then measure campaign revenue contribution, and
if you're operating in a highly competitive market, then incorporate third party market share metrics.
You likely have other specific marketing metrics that are leading indicators of overall corporate goals; these are important to include only if the relationship of those metrics to the corporate goal is clear. For example, if your colleagues understand that the number of daily website visitors is a leading indicator of brand awareness, include it in your dashboard. Be sure you can clearly explain how every metric on your dashboard connects to organisation objectives.
To find out the following five essential best practices to creating and deploying effective marketing dashboards, download 'The Must Do's of Marketing Dashboards' here »