Christmas shopping figures exceed expectations
Australians were in a giving mood during the recent festive season, with Christmas spending in the pre-Christmas trading period totalling $47 billion, a 4.2% increase on spending during the same period in 2014, according to figures from the Australian Retailers Association (ARA) and Roy Morgan Research.
ARA executive director Russell Zimmerman said the figures from the all-important Christmas period exceeded all expectations.
"This data supports our early estimates of $46.8 billion in pre-Christmas sales, and we are happy to say that our expectations were not only met, but were exceeded last Christmas," says Zimmerman.
However, it wasn't all good news, with the figures showing the smaller independent sector may not have benefited from the spending.
"While the vast majority of retailers received a year on year boost over Christmas, it's important to note that there were some pockets, particularly in the smaller independent sector that our surveys show may have missed out on the spending joy," Zimmerman says.
Victoria experienced the highest growth in spending, with a 5.8% increase, followed by NSW and Tasmania who both recorded growth rates of 4.8%.
Zimmerman said the growth recorded in Tasmania was a welcome result, given the fact the sector had struggled to record growth throughout 2015.
"This is a stellar result for Tasmania, which has suffered with negligible growth at some points in 2015, but it seems that the economy is bouncing back and people are prepared to spend in retail stores again," he says.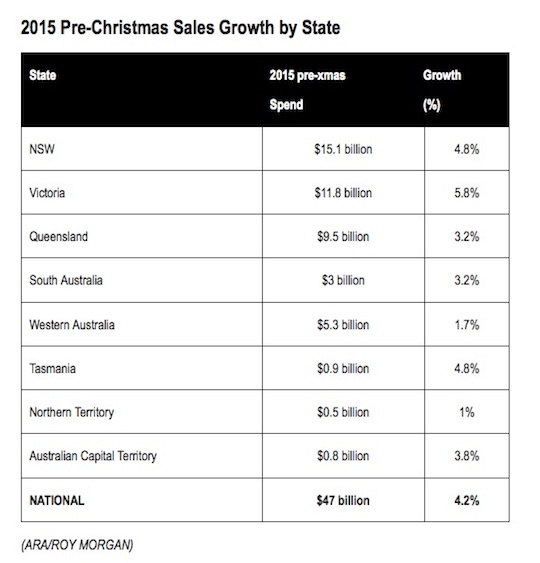 Household goods lead the way in growth by category, increasing on 2014 by 6.4%, followed by apparel which increased by 5.3%.
Food items experienced smaller growth of 3.2%, but remained the category Australians spent the most money on, with a total of $19.1 billion spent on food items during the Christmas period.
However growth wasn't just refined to in-store – the online retail sector also had a strong period, with Australians spending $3.1 billion on e-commerce in the pre-Christmas trading period.