Coca-Cola showcases extra-cool coolers in 'internet of things' case study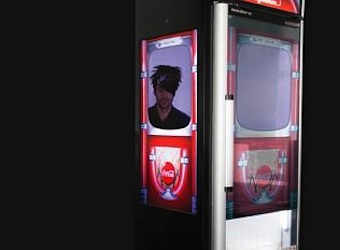 Coca-Cola Amatil (CCA) has showcased its latest innovation in a case-study at Microsoft's Internet of Your Things event.
CCA looked at new ways to differentiate the Coca-Cola brand. For affordable, wide scale deployment, the company needed to work with existing assets such as beverage coolers in stores and shopping malls. CCA took advantage of the unused space on coolers by adding digital signage to create a personalised, engaging experience.
And for maximum impact, the company needed a flexible platform that could be easily-customised for different locations and work with multiple data sources, applications, and devices, including point-of-sale systems in stores, analytics software, social media sites, and mobile phones.
"We didn't want just a locked down white box," says Stuart Port, frozen beverages strategy manager, Coca-Cola Amatil. "We needed an interface that would tell us everything from the customers' perspective, including their location and how they're interacting with the solution. It's not just about delivering digital content, it's about doing it in in a targeted and relevant way."
Tailored marketing strategies is expensive to deploy across a diverse array of products and sales channels in multiple countries. The company looked to a more centralised solution for delivering customised marketing content. "We currently create customised material for point-of-sale locations all across the marketplace," explains Port. "Digital marketing represents an opportunity to transition away from paper-based POS in the future."
In collaboration with global creative agency TKM9, CCA the company used interactive digital signage installed on beverage coolers to collect data on sales and consumer interaction, and share content with customers at the point of sale – such as discount offers and weather reports. With the device, CCA is also able to draw consumers into an interactive multimedia and social-media experience, via the coolers and the consumers' own devices, offering games, contests, Facebook posts and more.
"Interacting with the coolers using touch, gestures and their own mobile phones gives customers a unique experience that has been proven to increase sales and brand loyalty," says Hodgens. "For example, after snapping a photo of themselves with the cooler's integrated webcam, they can use a built-in app to change their appearance with different hairstyles and outfits, set the image to music, and then share it through Facebook."
As a result, CCA is building sales along with customer relationships that extend past the point of the original purchase. "These interactive coolers based on Microsoft technology are a great way to represent your brand right at the point of purchase," says Port. "If it engages people enough that they reach in and buy that Coke it helps increase sales. But at the same time, it's terrific for us that we've had a positive experience with the consumer," he says.