Disruption starts from the inside
Michael Valos explores the role of internal branding in delivering or defending against industry disruption, and the leadership role of the chief marketer.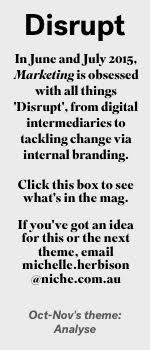 The purpose of these articles is to shift the focus away from the role of the CMO as one of marketing execution and tactics, and replace it with the view that the chief marketer role is both holistic and strategic.
From the discussions I've had with chief marketers in developing this program of articles it's apparent that CMOs who are valued show their relevance by guiding organisations through uncertain futures, shape internal cultures and represent the customer's viewpoint in strategic decision-making.
Unless CMOs carry out these roles, they are likely to be reduced to a tactical focus and limited to being in charge of marketing communications and not much else.
Industry disruption in Australia is evidenced by Deloitte's identification of 13 industries – comprising 65% of the Australian economy – that are facing significant disruption by 2017 (see link in 'Further reading'). This represents an opportunity for chief marketers to show their relevance in both seizing and defending against industry disruption opportunities and threats.
One example of industry disruption – that I've used from Paris to London to Venice to Geelong – is Airbnb. This 2008 start-up has been valued at $10 billion, which gives it a greater value than both the Hyatt and Holiday Inn/InterContinental Hotel networks.
Did the CMOs of Hyatt and Holiday Inn provide value to their organisations by identifying this threat, facilitating a repositioning or potential consolidation of strengths in other segments less vulnerable to this industry disruptor? Did those same CMOs see the attractiveness of accommodation in a personalised, unique scenario of a home compared to the uniform, impersonal blandness of the modern motel? Did they work with leadership in human resources in developing a culture that could respond to rapid changes in market from this industry disruption?
If chief marketers can facilitate the development of an internal culture able to deliver or defend against industry disruption, their value will not be doubted. A number of successful organisations have used internal branding as a way of achieving an internally responsive customer driven culture.
According to Peter Zafiris, manager sales and marketing at BlueScope: "I think of Google, Zappos, Apple, GE and Coca-Cola when I think of successful internal branding. The brand promise must be true to your organisation and your story compelling."
Other examples of internal branding are IBM, Walmart and Starbucks. These are the type of cultures best placed to deliver disruption or defend against industry disruption. The link between an innovative and adaptive culture and the customer through brand is well illustrated by a quote from Mike Harley, managing director at XPotential.
Harley says the brands people value the most engage the heart and mind: "They're different, built on strong values and consistent execution across all touch-points. Every person in an organisation is a brand touch-point, so it's imperative they are all aligned with the brand strategy and understand their role in creating brand equity."
Part one: what are the biggest barriers to internal branding as a means of developing an innovative, adaptive culture?
No silver bullet for successful internal branding Sara Daymond, executive manager marketing at VicSuper, identifies three barriers to successful internal branding.
"First, there is little or no championing from the CEO and the executive team.
"Second, there is no clear link to the commercial strategy, in which case internal branding is seen as an isolated marketing initiative.
"And third, there is limited alignment and commitment between the different departments and functions required to ensure a consistent customer experience."
Unfortunately, internal branding relies on the provision of quality communications and trust. Daymond has a holistic and strategic perspective and this enables her to see beyond marketing tactics and identify these barriers. The perspective recognises linkages between the internal and external environment, between senior leadership and employees, and between different departments and functions.
Leadership risk and courage
While BlueScope's Zafiris reinforces Daymond's point about leadership, he also identifies an aspect of leadership relevant to successful internal branding and culture change" Successful internal branding requires leadership to believe and agree on what the brand stands for and why the brand exists," he says. "This will set the scene and rally all stakeholders inside and outside the organisation.
Zafiris' argument is that this will overcome resistance to change and address different forms of employee disengagement.
He urges that leadership needs to be bold and courageous. "Leaders must take a leap and make some tough decisions." In Zafiris' opinion, leadership is about risk and courage, as opposed to leadership that is complacent or conservative and happy with the status quo.
Using brand promise to align stakeholders to brand promise
Anna Whitlam of Anna Whitlam People has been involved in a number of recent organisational restructures within blue chip Australian organisations. She identifies alignment of all stakeholders around the brand promise as a means of facilitating successful culture change through internal branding.
"Employees generally want to be a part of a common purpose and they aspire to make a difference in the world," Whitlam says. "Organisations let themselves down by not enabling clarity of that common purpose, nor consistency across all key stakeholder groups. Successful internal branding is enabled only through employees, customers, business partners and all key stakeholders being aligned around the brand promise in the same way."
Implied in Whitlam's statements is a role for the CMO to facilitate the communication of a common purpose and to recognise the link between strategic and operational groups.
Vision trust and no broken promises
Jim Parry, principal at So-Brand, identifies four barriers that hinder successful internal branding.
"First, leaders who don't visibly represent and articulate the emotional purpose of the organisation internally and externally will struggle to establish employee connection.
"Second, perceived commercial pressures of day-to-day business can reduce the leadership focus needed for building vision, cultural values and employee connections. Third, lack of strategic vision or articulation of that vision reduces employee willingness to engage. Fourth, and finally frequent large-scale changes create employee fatigue, leading to a low organisational appetite for embracing change."
Parry's comments suggest a multipronged approach is required when developing an appropriate culture that can seize or defend against an industry disruption opportunity or threat. He recognises the need for leaders to be both rational and emotional, as in many cases employees are cynical about culture change programs and internal branding due to previous half-hearted attempts, where promises to employees were broken with only lip service being paid to the initiative.
Part two: is there an ideal process to achieve internal branding and create a flexible innovative culture?
To best win the internal branding battle, the 'why' of a brand needs to be something with which employees can personally engage. The brand positioning needs to be comprehensible. The claims need to be credible. The messaging needs to be strong and consistent, but also flexible and comfortable for a range of internal groups and job functions. With digital technology a common reason for industry disruption, it is appropriate to see how technology can facilitate organisations in delivering or defending against industry disruption.
Scott Thomson, senior manager, industry strategy APAC at Adobe, says his company's vision – 'changing the world through digital experiences' – is used both internally and externally.
"Creativity and innovation is values key to Adobe's culture. Initiatives such as 'Adobe Kickbox' – a kit that empowers employees to come up with the next great Adobe idea, with tips on ideation through to pitching – enable our employees to think creatively in a supportive environment.
"But it's not just our employees who are excited about making an impact. Customers use Adobe because they too want to change the world through telling their brand story. A brand becomes truly powerful when company, employee and customer beliefs coincide."
In a research paper I recently worked on, we discovered evidence that companies' successful use of internal technology allows them to best understand how to use social media and digital marketing externally for competitive advantage.
Anna Whitlam believes any process must be strongly linked to operations with a number of threads being integrated.
"Practical action plans help to overcome the biggest internal brand barriers," says Whitlam. "Attach a higher purpose to your brand, and enable employees to become part of that. Encourage ownership, collaboration and innovation. Tie behaviours together with the brand. The effort employees make isn't extra – it's the fabric that keeps the team together. Highly engaged employees also have a stake in creating ways to generate revenue and decrease costs." Ken Parry, professor of leadership at Deakin Business School, believes both CMOs and CEOs require a particular mindset to facilitate internal branding and culture change appropriate for dealing with industry disruption. "Branding of self within one's own organisation is the biggest barrier to internal branding. Always.
The biggest issue is trust. "Why would the employees put their life in your hands? What is in it for them to follow you? Think of the metaphor for your brand, and then act in a way that reinforces the metaphor that you want. "Will you be Australian of the Year, or will you be Charles Manson?" How many leaders have the emotional intelligence to be self-aware rather than arrogant?
In conclusion
In summary, this article continues to stress the need for CMOs to develop a strategic and holistic view and move beyond a narrow tactical marketing communication focus. This will enable them to reinforce the relevance of marketing through the C-suite and to the C-suite in the face of industry disruption. Given 70% of change initiatives fail, the CMO needs to be able to manage successful internal brand change through three key components:
Readiness for change (leadership support, need for the change, the process, confidence, what's in it for me?)
capability (organisationally, individually), and
belief (significant others, attitude, perceived difficulty).
These factors can be used as a diagnostic to enable focus on where additional support is needed to effect this change.
Take homes – Sara Daymond's 10-step internal branding process
Understanding previous positioning and obtaining views from longer-term employees
Opportunity for employees to have a say (workshop/questionnaire/other) in future brand values (so they believe that they are heard)
CEO/executive information sessions for employees
Opportunity for teams to identify what they need to 'stop', 'start' and 'keep doing'
Review and alignment of employee values (close liaison between CMO, CEO and HR) – ideally employees provide feedback
Identify future champions in the business
Process to develop 'quick wins' within teams to start delivering the brand promise
Integration of internal communication tools such as intranet and Yammer etc.
Feedback and celebrations of demonstrations of brand values and beliefs, and
Integration into the way we do business (integration into KPIs) and continued championing by CEO and executives
Further reading
Digital disruption harnessing the bang
Internal branding is one way of developing a facilitative culture that is deemed necessary for organisations undergoing digital transformation and attempting or succeeding in industry disruption. These reports highlight the link between culture technology and industry opportunity.
5 secrets to recognizing an industry ripe for disruption
This article talks about mindsets and perspectives that precede successful disruption. An organisation that has succeeded with internal branding is more likely to be able to share an innovative and disruptive mindset.
Ten companies that are disrupting their industries through technology
In contrast to the first article, this has examples of why the new business model was successful and how it was different to the existing industry players. As you can expect, digital and technology was a common feature in these success stories.
This article provides more rich examples of disruptive start-ups, but an interesting aspect of the article is a series of steps to take when you're being targeted by a disruptor. Being the Harvard Business Review, it provides some definitions and considers innovation to be the milder form of disruption, or disruption the more seismic form of innovation.