How poor digital experiences are damaging your bottom line
This is a sponsored post written on behalf of SAP to promote its Australian Digital Experience Report, which is available to download here.
Some of Australia's biggest and best-known brands are alienating customers due to offering poor digital experiences, SAP's first Australian Digital Experience Report has found.
The report details the findings of recent research by SAP and AMR involving surveying 3000 Australian consumers. Just one of the 34 brands ranked in the first-ever Australian Digital Experience Index received a positive score, proving Australia has a long way to go towards creating great digital experiences.
It found digital experiences that fail to delight customers can:
Negatively influence customer advocacy,
lead to a loss of loyalty, and
ultimately affect revenue.
It also discusses the relationship between net promoter scores (NPS) and customer loyalty.
For example, customers delighted with a digital experience are four times more likely than those who are unsatisfied to remain loyal to a brand.
The index represents the ratings of nearly 7000 digital interactions, involving 34 brands across six consumer-focused industries:
Retail (groceries),
retail (consumer goods),
telecommunications and internet service providers,
insurance,
banking, and
utilities.
All of the industries received negative digital experience scores. The report details the specifics of how each industry performed in the study one by one, including how the important attributes of the digital experience differ across industries.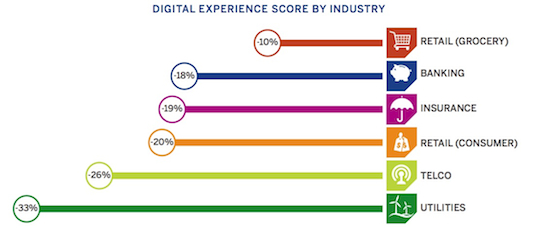 Rather than simply pointing out poor performance that Australian brands still have a fair way to go to delight their customers online, the report aims to help Australian organisations make decisions on how they can better serve their customers and compete in an increasingly digital and global economy.
Tactics include understanding the different types of digital customers, particularly the importance of digital influencers, and how to engage with them.
Download the Australian Digital Experience Report here »