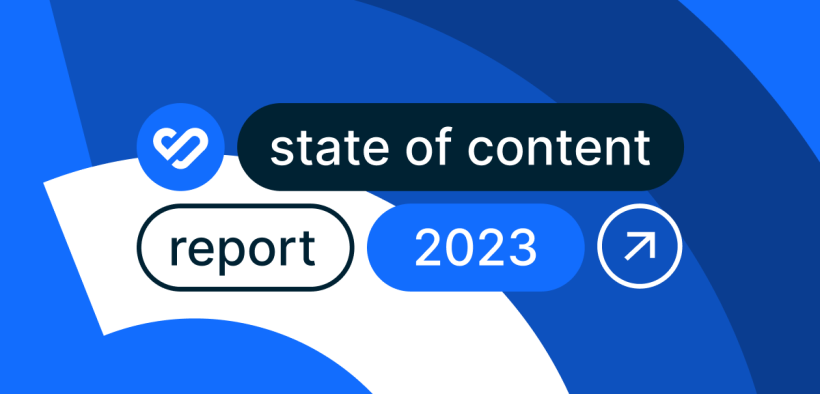 In the fast-paced world of marketing, one thing is certain: content is your key to success. Our latest survey at Bynder, featuring insights from over 1200 marketing professionals, showcases the unanimous agreement among CMOs on the critical importance of content creation, management, and distribution.  
Let's dive into the survey results to unveil exciting statistics and trends in the world of content marketing.
The ROI of content marketing
1. Investing in marketing technology
Our 'State of Content' report highlights an ongoing trend: organisations around the world recognise the value of investing in marketing technology to supercharge their content operations. They're committed to maintaining or increasing their investments in technology like digital asset management (DAM) to meet consumers' insatiable appetite for content, be it in volume, variety, or speed across various platforms.
With a wealth of consumer data at their disposal, organisations see the importance of delivering personalised and consistent content experiences. It's no wonder that businesses are strategically channelling investments into technology, driven by the need to guarantee substantial ROI, with a focus on streamlining content creation and distribution. 
2. Streamlining martech stacks
Marketers report their intention to consolidate their existing martech stacks. They're decluttering by identifying and eliminating redundant or unused services. This move is all about investing in technology that brings different systems under one roof, creating an ecosystem that fosters consistency and engagement throughout the customer journey, all while cutting operational costs.
Impressively, 72 percent of marketers in Australia and New Zealand (ANZ) are eager to streamline their tech systems to make content creation more cost-efficient. This streamlined approach empowers organisations to forge effective integration strategies, leading to improved consistency, cost savings, and heightened customer engagement.
The tangible benefits and ROI of integrating technology into content strategies can be as extraordinary as a 66 percent reduction in content creation costs and a 300 percent surge in video views on owned channels.
3. The benefits of a connected digital ecosystem
In today's digital-first world, keeping content consistent across multiple channels is a big challenge for many brands. Our survey reveals that 66 percent of marketing professionals impressively juggle 11-plus channels to promote their products and services. A connected digital ecosystem, powered by a digital asset management (DAM) platform, is a game-changer for businesses trying to maintain brand-consistent content.
Within this ecosystem, teams can seamlessly manage the entire content lifecycle, from creation to automatic distribution – ensuring that the right content lands on the right platforms at the right time, creating exceptional content experiences, and increasing audience engagement.
But what's the ROI of a connected ecosystem? Seamlessly integrating the right PMS, DAM, and CMS can result in a staggering 38 percent increase in qualified leads, 20 percent increase in qualified traffic from Google, and a 100 percent increase in page views per session.  
4. Investing in content marketing
As we see that most companies are stepping up their investments in content creation and distribution, we realise that these aren't random moves; they're strategic decisions aimed at securing financial stability in uncertain times.
Globally, 69 percent of marketers view content investments as tactical decisions to protect their financial stability. Across ANZ, a striking 76 percent of marketers share this perspective.
Allocating resources to content marketing allows businesses to maintain brand visibility, provide value to their audience, build trust, and secure top keyword rankings, traffic, and shares. Neglecting content operations could disrupt brand momentum and jeopardise customer retention, impacting profits. The benefits in terms of ROI can be as significant as a 35 percent uplift in ad recall after personalising an online campaign.
As we navigate the challenges of a turbulent economy, investing in content creation, management, and distribution has taken centre stage. The insights from our 'State of Content' report underscore the growing interest in consolidating technology systems, reducing agency costs, and adopting scalable tech solutions to streamline content operations. By embracing a connected digital ecosystem and harnessing DAM platforms, businesses can achieve brand consistency, boost engagement, and cut costs while delivering personalised content experiences that resonate with their audience. 
We hope these findings serve as a guiding compass for your content marketing journey. Read the full report.