Amazon challenges Australian supermarkets with online groceries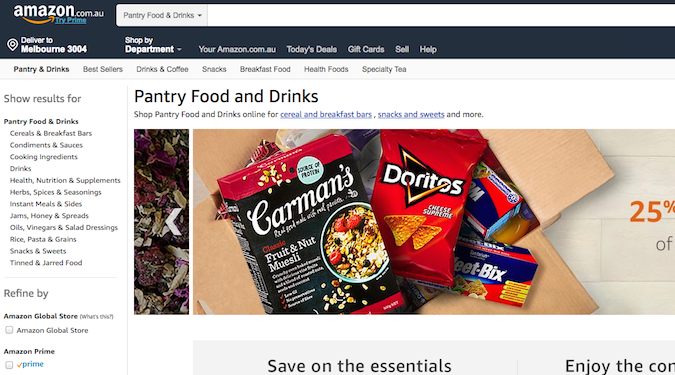 Amazon has partnered with a series of domestic and international food suppliers to launch its Pantry and Drinks offerings in Australia.
Amazon's Retail and Marketplace offerings first entered the Australian market at the end of 2017. This week the ecommerce giant is launching its Pantry and Drinks offerings Down Under.
Users will now be able to order Australian staples through the Amazon platform such as Arnotts, Uncle Tobys, Milo, Blackmores, Masterfood and Sanitarium; as well as international brands including Oreo, Doritos and Skittles.
"Since the launch of amazon.com.au in December of last year, we have been focused on growing selection and services for Australian customers," says Rocco Braeuniger, country manager of Amazon Australia.
"Today we are delighted to add to the over 80 million products already available on the store with the launch of Pantry Food and Drinks, bringing greater convenience to customers, underscored by everyday brilliant value and fast delivery."
Both Pantry and Drinks produce will be available through Amazon's premium subscription service, Prime, with free delivery. According to Amazon, nearly 90% of Prime customers in Australia will be able to receive their orders within two days – with selected areas having access to next-day delivery.
The Pantry and Drinks launch follows the introduction of Pet Supplies, Travel Store, Automotive and Jewellery categories arriving to the Australian site last month. Amazon is expected to introduce its fresh produce offering to Australian customers once the company secures its refrigerated supply chain – a service already active in the US.
Technology-enabled grocery delivery is set to be a hard fought category in the coming years. Coles recently announced it would be investing millions into automated distribution centres, and last month Woolworths trialled it's 'scan and go' system at one of its Sydney stores – similar to Amazon's 'check-out free' experimental store in Seattle.
Also announced by Amazon this week is its official sponsorship of the Sydney Invictus Games 2018, as well as its supporting WithYouWithMe (WYWM) Career Expo. According to Amazon founder and CEO Jeff Bezos, the sponsorship signifies Amazon's ongoing commitment to employing veterans in Australia and internationally.
"We actively seek leaders who can invent, think big, have a bias for action and deliver results on behalf of our customers," says Bezos.
"These principles look very familiar to men and women who have served their country in the armed forces, and we find that their experience leading people is invaluable in our fast-paced work environment."
Further Reading:
Image credit: Amazon Australia