Melbourne mums versus Star Wars – 2018 VR Marketing Award shortlist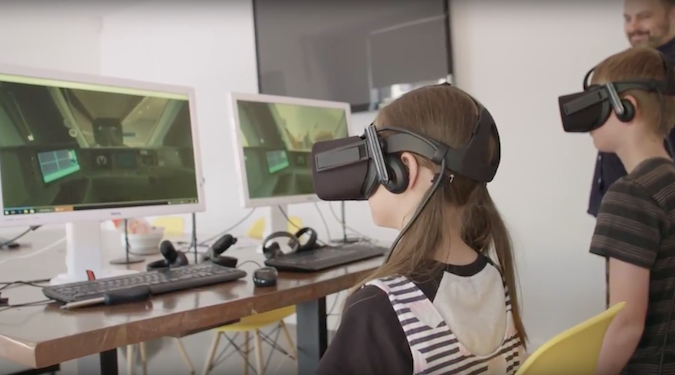 A VR experience created by a group of Melbourne mums for Transport for Victoria has been named a finalist at the 2018 VR awards.
Up against the likes of Lucasfilms' ILMxLAB (Industrial Light and Magic) and Ikea's virtual reality Store, a group of Melbourne mothers has been nominated as finalists for the VR Marketing of the Year category at this year's VR Awards.
The VR experience crafted by the group, 'Melbourne, meet your new train' was designed for Transport for Victoria in February to show off Melbourne's model High Capacity Metro Train in Birrarung Marr to kids – which highlighted improved transport outcomes with bigger trains for Victorians.
The project was crafted in collaboration with Prahran digital agency Bravo!, taking the lead on project production and direction.
The experience would see kids driving the new train through iconic Melbourne landscapes such as Lunar Park, and through more fantastical settings including an underground section.
"It's quite unbelievable that something that started as a funny chat with my seven year old daughter in our Melbourne apartment has now ended up pitting us against Lucasfilms' ILMxLAB and Star Wars for the biggest VR award in the world," says Jane Metlikovec, one of the mums involved in creating the VR experience.
Metlikovec has since opened her own digital communications agency in South Melbourne, Welcomm.
"I'm so pleased to be working in Victoria's digital industry alongside world-leading women.
"The fact we are a finalist in such a big award shows that you don't need a massive production studio, but just solid creative ideas, skilled production professionals and clients like Transport for Victoria who see the value in this kind of work and are proud to back local women in creative technology."
The 'Melbourne, meet your new train' VR experience will be going up against 10 other projects shortlisted for the 2018 Marketing of the Year VR Award:
ILMxLAB – Star Wars:

Droid Repair Bay

Flight School and Momentum Worldwide –

GMC Rangeland Derby VR

BackLight –

L'Oreal / Diesel Only the Brave

Pebble Studios –

DuckTales | 360° Adventure: The Lost Key of Tralla La

Magnopus –

Coco VR

Somewhere Else –

Delicatessen

GrandPano – SPP –

SMART HOME

Magnopus –

Blade Runner 2049: Memory Lab

TAKELEAP –

IKEA Virtual Reality Store

Audi and ZeroLIght – Audi VR Experience
Further Reading:
Image credit: Transport for Victoria