Online shopping continues to surge after record start to 2015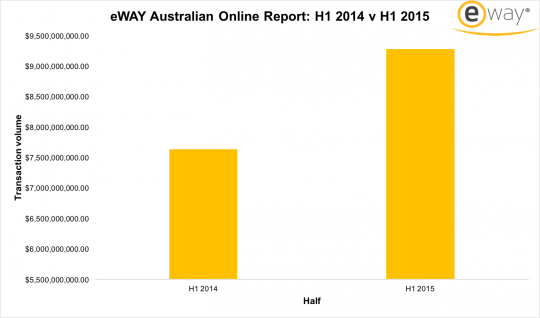 Australians spent $9.3 billion shopping online in the first half of 2015, a 21.5% increase over the same period last year, according to figures from ecommerce payment company Eway's '2015 First Half Online Retail Report'.
Australia's online spend on office equipment was 57.7% higher in the first half of 2015 compared to the same period last year and is a result of the small business instant tax deduction announced in the Federal Budget, according to Eway's founder and CEO, Matt Bullock.
"The spike seems to be related to the new Federal Budget allowing small businesses to claim instant tax deductions of up to $20,000, which also removed fringe benefits taxes on electronic company equipment," said Bullock.
The report also showed that sales to international delivery postcodes increased by 35.5% during the first half of 2015, when compared to the same period in 2014 and continued to grow as Australian dollar exchange rates lowered.
The findings provide strong indication that 2015 is heading to be a record year for Australian ecommerce and clearly show that Australians are joining other countries and doing their online shopping during their daily commute.
"Even though more and more Australian businesses are now selling and accepting payments online, the sector still has significant growth potential," said Bullock.
A mix of seasonal sales, the end of the financial year and the Federal Budget saw online transactions skyrocket in June according to Bullock.
Thursdays were the best day for online shopping – the same day many bricks-and-mortar retailers have their longest trading hour periods.