Oracle's latest innovations on show at Modern CX event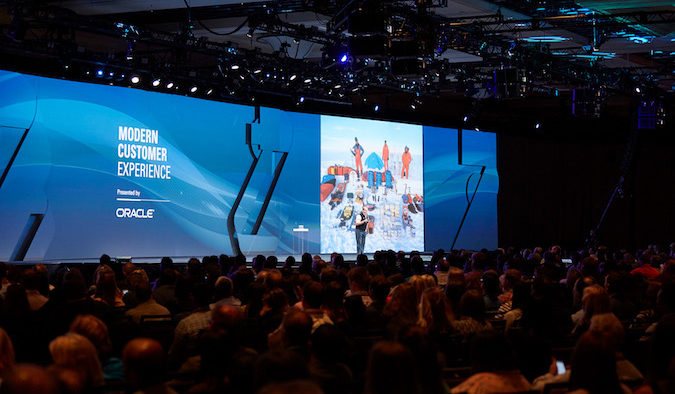 Oracle introduced a series of new innovations at its Modern Customer Experience event in Las Vegas last week.
Oracle announced a range of products and innovations at its Modern Customer Experience event.
Adaptive Intelligence Apps
The customer experience apps aim to empower marketing professionals to deliver smarter experiences across the customer lifecycle in real time. The apps blend first-party and third-party data with sophisticated decision science and machine learning to deliver AI-based CX solutions. Adaptive Intelligence Apps for CX are designed to help commerce, marketing, sales and CX applications within Oracle's CX Cloud suite.
Powered by insights from Oracle Data Cloud, apps for CX have an unprecedented ability to react, learn and adapt based on historical and dynamic customer data such as click-stream and social activity as well as inputs such as weather, lookalike audiences and IoT data.
For marketing professionals, the new capabilities aim to help enable smarter cross-channel experiences by delivering the most relevant, personalised content for each customer.
"By combining first and third party data with advanced machine learning and (the Oracle Data Cloud and suite), Oracle provides a complete package that helps eliminate the need for more integrations or other costly and time-consuming processes," says Clive Swan, senior VP applications development, Oracle Adaptive Intelligence.
LinkedIn Matched Audiences
Oracle announced a new product integration between Oracle Marketing Cloud and LinkedIn Campaign Manager which is a new targeting capability within LinkedIn's new Matched Audiences product. The integration will allow Oracle Marketing Cloud customers to seamlessly integrate data from more than 467 million LinkedIn users into existing marketing campaigns to reach and engage their buyers.
"At LinkedIn, we strive to equip B2B marketers with the tools and insights that they need to reach the audiences that matter most to their business," says Russ Glass, VP of product at LinkedIn Marketing Solutions.
"Matched Audiences get us closer to that goal by enabling us to give marketers custom ways to combine LinkedIn's professional data with their own first-party data," he says.
Oracle Content and Experience Cloud
Content and Experience Cloud is a digital experience platform that enables organisations to manage and deliver content to any digital channel to drive effective engagement with customers, partners and employees. The cloud-based content hub allows organisations to easily create and distribute content in a meaningful way to improve brand engagement and customer growth and retention.
"Renault Italy implemented CRUEL's WONDER Marketing solution powered by Oracle Content ad Experience Cloud in 2015 and 2016 and is now able to distribute marketing materials 90% faster and respond to its auto dealers 40% faster," says Antonio Orefice, business account manager, Renault Italia SPA.
It gives a single cloud-native platform for content production, management, and delivery across all lines of business.
New innovations within the Oracle CX Cloud suite
Oracle CX Cloud is a suite of CX SaaS applications. New developments aim to combine chatbots, AI, enhanced mobile, video and messaging capabilities.
Chatbot innovations: Chatbot capabilities aim to enable new customer experiences by asking and intelligently answering customer questions on both text and voice driven platforms such as Facebook Messenger and Amazon Alexa. Marketing professionals can take advantage of chatbot capabilities for their cross-channel marketing in order to enhance larger, marketer-orchestrated customer journeys.
Mobile, video and social messaging innovations: Enhanced capabilities help CX professionals transform existing business processes to meet the increasing expectations of empowered customers.