R U OK?'s newest brand ambassador is a smart, 3D-printed question mark named Quentin
R U OK?'s newest ambassador, Quentin, has started his year-long journey around Australia to spark conversations about suicide prevention.
8 September is R U OK? Day, and this year the suicide prevention charity R U OK? has partnered with WPP AUNZ agency Fusion to create a one-off internet of things device that aims to inspire one million conversations.
Quentin's mission is to start a million conversations by travelling the country, passed along like an Olympic torch, starting on R U OK? Day 2016 and ending on R U OK? Day 2017. The action of starting a conversation to reconnect people is the foundation of the technology initiative that saw the creation of the large question mark character.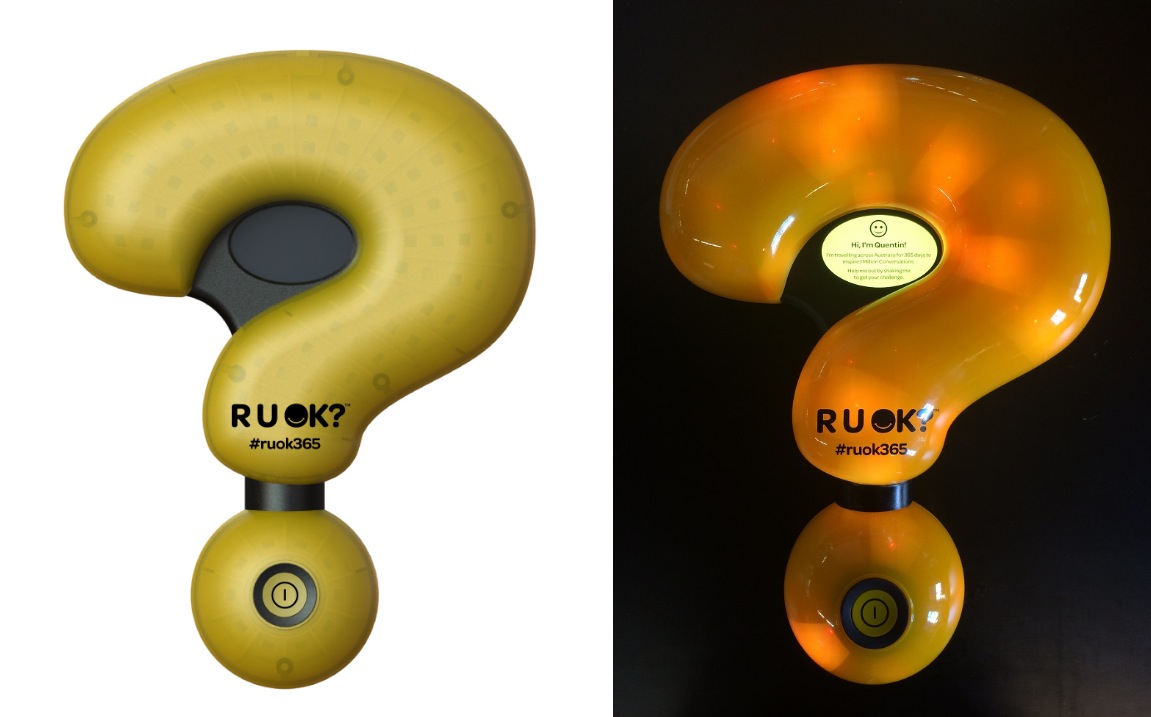 He has a translucent skin that holds an array of low-power LED lights that allow him to animate, glow and communicate. A number of sensors including motion and GPS will keep him steady and help him respond to touch and display messages when interacted with. He can also send SMSs to his 'keepers' and help them spread the word, issue challenges and pass Quentin on to the next keeper. The body was 3D-modelled and computer-machined as a one-off device.
Campaign director Rebecca Lewis says the aim of the campaign is to boost the perception that starting conversations is something we should do every day – not just on R U OK? Day. "With millions of Australians already supporting R U OK? Day, we're excited to challenge them to do more to stay connected and have regular, meaningful conversations," she says. "Quentin will help people to proactively reach out to someone they've not seen in a while and do more to maintain stronger relationships."
The creative motivation that drove the highly technological solution was the need to "get people to reconnect by simply starting a conversation", says John Chaplin, managing director of Fusion Sydney. "Technology is an amazing thing and has enabled us to create a ground-breaking and interactive way for people to reconnect with their family and friends. Our team has pushed the boundaries of 3D printing, mobile, SMS automation and micro-electronics to create a piece of interactive art that will help start a million conversations.
"We can't wait to see how far Quentin travels," Chaplin says.
Quentin starts his journey at Bondi Icebergs in Sydney with former rugby league player Wendell Sailor and former boxer Garth Wood as his first keepers. The two are mates and R U OK? Ambassadors.
As the journey around Australia progresses, Quentin's technology enables him to issue conversation challenges designed to motivate each new keeper to reconnect face-to-face with people in their lives.
Users can interact with Quentin through SMS on their phone or shake him to get an R U OK? challenge. Quentin has the ability to publish his activity to the R U OK? website, including kilometres travelled, challenges issued and number of keepers. The journey's hashtag is #ruok365.
If this content has raised any concerns, support is available by phoning Lifeline on 13 11 14. If life is in danger, call 000 or go directly to emergency services.
---
PREMIUM RESOURCE: 'Marketer's Guide to the Internet of Things: Opportunities and challenges for brands in a connected world'. Learn more »