Shopping centre traffic is ramping up over the holiday season – are you?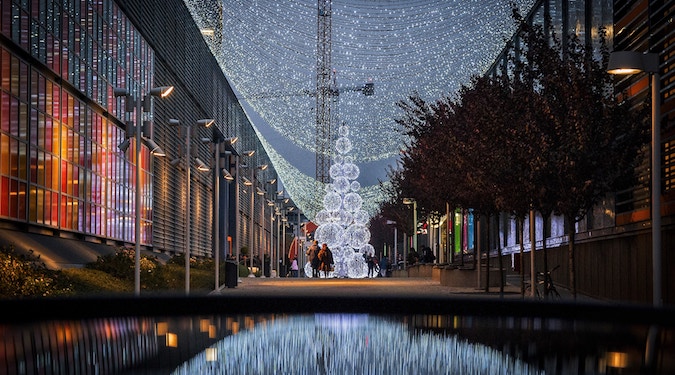 No longer can retailers expect consumers to be bottlenecked into physical stores; 2019 has ushered in yet another mass conversion of digital natives who expect limitless options and instantaneous responses from brands this holiday season.
This article was sponsored by Scentre Group to let readers know about always-on engagement opportunities within the Westfield environment over the year's busiest retail season »
To keep up, the traditional retail space has been forced to evolve. Today, it's about creating extraordinary places for consumers to marvel at, spaces for people to connect and nurture enriched communities.
In addition to being a property company in the shopping centre business, Scentre Group has done just this. Westfield Centres around Australia have been re-imagined with a focus on importing customers' digital expectations with the tangibility and presence unique to the real world.
The assortment of experiences available at a Living Westfield Centre are about more than just shopping. As a hub of local community, consumers view Westfield as epicentres for culture and community. And it shows – in 2018, Westfield centres outperformed the market, increasing annual customer visitation by five million to 535 million and annual in-store sales by $1 billion to $24 billion.
In the same year, there were more than 13,500 events and collaborative brand activations across Scentre Group's portfolio of 41 Westfield living centres – everything from face painting to hosting pop star Katy Perry as she promoted her world tour.
Customers are at the heart of Scentre Group's business, and it knows its customers inside and out. In 2018, any average month saw 7.4 million unique customers pay a visit to a Westfield centre. Each of those customers' stays lasted an average of 81 minutes, according to Scentre Group's research, and on average customers visit six times a month. This means, in a Westfield centre, not only are brands exposed to a high volume of traffic, they are guaranteed repeat impressions from a unique and primed audience.
And what better time to place your brand in shoppers' crosshairs than the 'Super Bowl' of retail? The holiday shopping season is dawning sooner than we'd like to admit, and marketers will be scrambling to ensure their brands are front of mind. The lead up to Christmas is already the busiest retail period of the calendar year, not to mention Black Friday that will take place on 29 November this year. The one-day shopping blitz has become a staple for Australian consumers, with both online and physical retail seeing the momentum. Last year Scentre Group saw a 3.5% YOY increase in traffic during the week or Black Friday. And though many treat Black Friday as an opportunity to get a great deal on Christmas presents, Scentre Group's research found that more than 80% of shoppers succumb to the temptation of indulging in the bargains for themselves. Across November and December, Westfield centres see their weekly traffic increase an average of 20% compared to the rest of the year
Thus it's up to Australia's decision-making marketers to arm themselves with a robust suite of advertising options over the Christmas shopping period. Westfield offers a strong ecosystem of commercial solutions within the Westfield portfolio including a network of more than 1700, 100% digital SuperScreens (large format) and SmartScreens (floor based) as well as more than 500 physical retail sites and kiosks. Using these in conjunction with digital and online touchpoints ensures a comprehensive approach to the customer relationship. Rather than chasing the consumer, being where they already are facilitates a candid and meaningful opportunity to create connections. Particularly in a period where tensions are high; customers are zipping around, juggling presents, organising family gatherings and trying to internalise their Christmas spirit, it is paramount for brands to be there for them and offer the right messages in the right moods.
Get your brand the attention it deserves and be seen with Westfield this holiday season »
Image credit:Andrea Reggiani