The C-suite agenda: Marketing strategy loves business strategy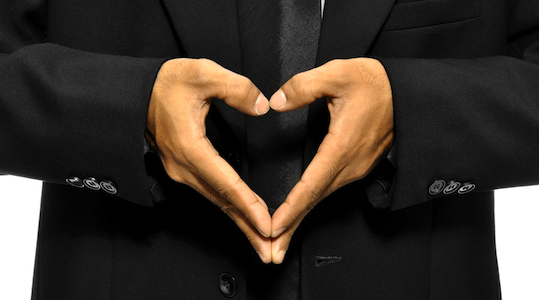 Michael Valos examines the relationship between marketing strategy and business strategy to understand how they should be integrated.
This is the second in a series of articles looking at critical success factors that determine the success of the CMO. Issues to be covered include: the CEO/CMO relationship, developing business strategy, integrating the marketing function, the relationship with HR and internal branding, teams (cross-functional and marketing) and finally measurement and accountability.
The annual 'Robert Half FTSE 100 CEO Tracker' shows that 52% of current FTSE CEOs have an accountancy or financial management background, compared to 21% from engineering/natural resources, and 8% with a marketing/advertising background. This series of articles is highlighting the issues marketers need to consider when developing skills and competencies in order to ensure marketing is not marginalised.
Part A: What is the role of business strategy in terms of marketing?
MYOB is a successful company that seems to have clarity between the roles of business strategy and marketing. John Moss, chief strategy officer, says, "The role of business strategy is to look forward on a medium- to long-term horizon and define a path for the business to deliver sustained growth and increasing profitability.
"Business strategy also needs to align internal stakeholders and ensure the business and its divisions execute against the strategy in the short-term, and build foundations required to deliver the long-term strategy," he says.
The link between the long-term and short-term and the business strategy and the impact of marketing strategy on customers is illustrated in his next comment: "Business strategy needs to work hand in hand with marketing to ensure marketing translates business strategy into communications strategy that supports the successful outcomes of the business. This includes positioning the business with stakeholders and developing robust plans to ensure retention and to attract and acquire new clients."
Identifying the differences between business strategy and marketing's role
Paula Parkes, Adobe's director of marketing for APAC digital marketing, highlights the difference between business strategy and marketing. "Business strategy will define the path for future growth that a brand commits to in delivering stakeholder value," she says, adding that it operates as the compass for the creation of customer value over three to five years.
Marketing, on the other hand, is firmly positioned at the intersection of customer experience and engagement, echoing the voice of the customer. "With this in mind," Parkes says, "marketing has to intrinsically understand and align to strategic business priorities in order to yield successful marketing strategies that grow a base of brand subscribers."
Parkes reinforces the role of the marketer as customer oriented and makes the point those marketers need to think beyond tactics and interactions to impact the CEO and business strategy.
Business strategy as breadth and marketing as depth
Another way of considering the differences between business strategy and the role of marketing is to consider them in terms of breadth. Chris Khor, managing director of Chorus Executive, clarifies the differences in the following way: a good business strategy is measurable, easily communicated and meaningful to those involved. The business strategy sets the framework in which the marketing strategy evolves. It gives marketing a broader context, parameters and an objective.
"In many ways, a business strategy is like the bullseye of a target and the different marketing strategies a business employs are like the arrows," she says. "The arrows must be on the right track of hitting the bullseye for a company to succeed."
Khor's quote also raises the issue that it may be easier to develop business vision and business strategy, but they're more difficult to implement. This difficult role is given to the marketer. Nevertheless, without identifying an appropriate business strategy it's likely much of marketing efforts will not be aligned and subsequently futile.
How business strategy facilitates successful marketing
There are six key issues to consider in terms of the relationship between business strategy and marketing, according to Skev Ioannou, Asia- Pacific marketing leader, security, IBM.
"From my experience," she says, "the most successful organisations do the following things:
They have a shared vision that provides a sense of purpose for employees,
they achieve alignment between business units (vertically and horizontally),
their business strategy becomes a framework to deliver decisions,
their business strategy is integrated with efficient resource allocation,
their business strategy is well-communicated and provides direction to other stakeholders, and
their business strategy enables marketing plans to focus on both customer acquisition and customer retention."
It would appear that these outcomes address the short-term as well as the long-term as well as the politics and culture of an organisation. While Ioannou doesn't specifically mention evaluation and metrics, this emphasis on communication and the top-down alignment between strategy and tactics a focus on accountability is implied.
Part B: What is the best way for the marketing function to develop and implement strategy?
The marketer linking business vision to tactical execution
Caroline Ruddick, general manager of marketing at MYOB, who has held a number of senior 'blue chip' marketing roles, responded to this question in two parts.
First, from a strategic viewpoint, she says, "The marketing function needs to input into and be across the strategic direction of the business. The marketing function must provide context on how the business, its brand or brands sit within the marketplace, how it's perceived and positioned relative to its competitors."
I don't believe any other function can do this as well!
Second, from an executional perspective, she says, "Marketing plays a key role in executing the campaigns, working with stakeholders to get buy-in, measuring the success of the activities, and adapting underperforming campaigns."
The marketer as influential leader
Ken Parry, professor of leadership at Deakin University, has a number of highly cited and well-known academic papers that examine leaders and transformation. He has a particular interest in how the role of marketing and the role of leadership coincide.
"Marketing is an important leadership function in any organisation," he says. "The marketing function is about influencing people to follow and support the product. In effect, this is what leadership is.
"The marketing function must be the internal leader within the organisation, generating the following of the whole organisation. The message might be that 'the product is everything to us'. The message of course is elaborated, but such a vision integrates and unites the aspirations and motivations of people from the C-suite right through to the process, clerical and administrative suites."
Parry is correct to focus on the critical role of the marketer as an influencer. This is because the marketer has to influence stakeholders to believe in the business vision. On the other hand, the marketer needs to influence senior levels of the organisation to develop a realistic business vision that can be achieved with organisational capabilities.
Don't forget, compared to other functional heads, the marketer is closer to customers and closer to competitors and in the best position to shape and influence business strategy.
The marketing function as collaborator, evaluator and communicator
The marketing function comprises many diverse roles. IBM's Ioannou highlights the way the marketing function can give value to the broader organisation. "Successful marketing function always looks for opportunities to create value and this can be done in a number of ways," she says. "I've seen marketing functions that excel at the following: collaboration with clients, listening to stakeholder needs and ensuring a sense of purpose occurs within implementation steps."
Many would argue that facilitating strategy formulation is the easier part and implementation is the real challenge. On this basis, the traits of successful marketers and successful marketing functions that she highlights are critical to realising strategic intention.
In summary, this article attempts to provide CMOs with a broader view of how the role of marketing and their position fits into broader framework. By providing this perspective, they are more likely to see the opportunities where marketing can help shape the business vision as well as deliver the business vision. But, as mentioned, it's not purely technical skills that will see marketers increase their presence at senior levels in organisations, but a combination of technical, interpersonal and financial skills.
The CMO was bridge builder between organisation functions
David Court (McKinsey Quarterly, August 2007) argues that the potential of the CMO to connect the marketing department to other functional areas, "is not only critical for bringing together marketing, PR and corporate affairs… but also important when CMOs are asked to lead major corporate initiatives on strategy and business models".
Court recognises the political and interpersonal nature of organisational power and structures, and I believe emotional intelligence is a critical part of this 'bridge building' function. As Court says, without the ability to influence senior functional peers, participation in marketing initiatives is delegated to lower-ranking employees.
Take-homes
CMOs must not confuse business strategy with marketing strategy, but must view them as complementary,
CMOs must use business strategy as a framework and align marketing strategy and marketing tactics within that framework in order to be relevant,
CMOs must share the business vision among a range of diverse stakeholders and influencers,
CMOs, possibly more than any other functional leader, must succeed as an internal influencer in order to overcome the issues of credibility and relevance facing marketing, and
CMOs must leverage their role as custodian of customer need and the emerging role as key decision-maker regarding marketing and business technology in order to increase their influence within organisations.
Research opportunity to learn more: Currently Professor Ken Parry of Deakin University, Skev Ioannou of IBM and I are doing a PhD research study of organisations undertaking digital transformation and examining the values, traits and skills needed to be a successful CMOs. If you and your CEO are interested in taking part by each being interviewed, please contact me. In return you will be given an executive summary of the findings. Email: [email protected].