Laphroaig whisky invites real opinions, unleashes meme-builder for fans and foes
Laphroaig whisky has opened itself up to criticism with a new campaign encouraging drinkers to share on social media their opinions of the drink it describes as a "complex beast".
The Beam Suntory brand is celebrating its 200th anniversary by offering a chance to win one of 10 trips to Laphroaig's island birthplace, Islay, as a guest of distillery manager John Campbell to attend to attend global whisky event "Laphroaig Live".
The '200 Opinions Wanted' campaign is inviting fans to share their opinions, whatever they may be, using a meme-builder held on a dedicated microsite and sharing them via the hashtag #OpinionsWelcome.
Between April and August, people are free to write whatever comments they like about the brand into the meme-builder, which creates a poster-like image featuring the product and their name.
Here's distillery manager John Campbell's version: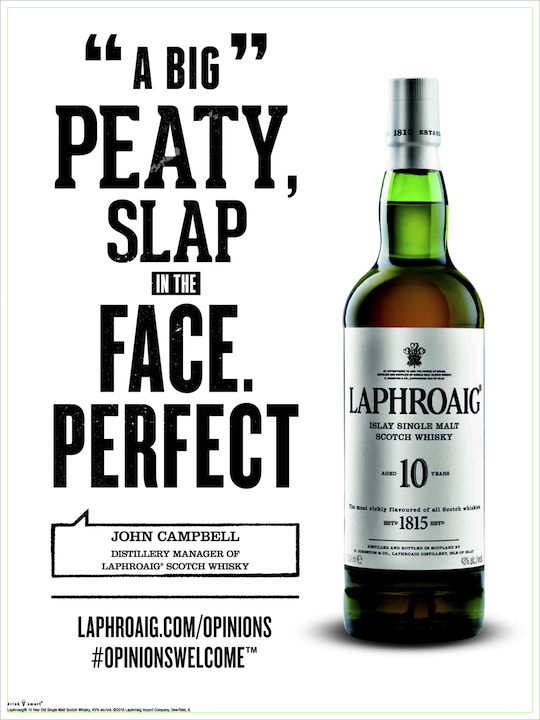 The microsite hosts an 'opinion wall' featuring the various memes, which describe the peaty Scotch whisky with comments that range from descriptive and loving to the not-so-positive:
"Imagine a raging coal fire in a seaside swamp full of flowers, iodine, bacon & firemans turnouts breakfast & smoke. Unbeatable.",
"It tastes like an old submarine engine smells and smoke",
"Who knew that formaldehyde could taste so good and be so smooth",
"It's like waking up next to someone you would much rather just forget already",
"Initially I thought that no one could possibly think sipping pure coal would be tasty. But… *sip* it is",
"The finest campfire you will ever drink", and
"If you don't like whisky you will hate this one!"
Amid the hundreds of entries, we only found this one that was blatantly critical of the site itself: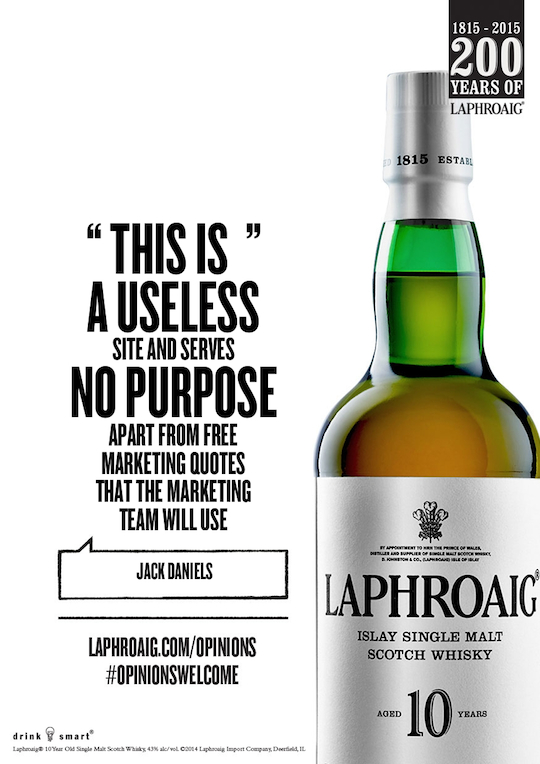 The site says: "Laphroaig is a complex beast – even our closest friends can describe us in seemingly disparaging terms… before saying 'they love us'! It's a whisky you can't fail to have a strong opinion about."
Some of the terms the brand has put up as inspiration for users include: glass, cigar, soil, forceful, abrasive, dramatic and brooding.
On top of the chance to have their comments included in the brand's campaign, the distillery will put two hundred of the "most unique opinions" on its walls as individual tiles.
This video content piece is also accompanying the campaign:
This example of user-generated content appears to have been largely successful, unlike Woolworths' Anzac Day meme-builder disaster last week, which only seemed to attract derision and complaints.