The out-of home-revolution – how digitisation unchained the billboard
Marketing speaks with John O'Neill, Australian CEO at QMS, about how the digitisation of the nation's out-of-home assets is fostering a new era of opportunity and engagement.
This article was sponsored by QMS to let readers know about the QMS Digilab, and is part of Marketing's special focus on the out-of-home sector.
After top roles at a number of industry heavyweight brands, John O'Neill was promoted from chief sales officer to Australian CEO at QMS earlier this year. After 23 years in the industry, he comments on the new developments and opportunities presented by the digitisation of out-of-home (OOH) media, and its effect on creativity, execution and results.
Marketing: How has digitisation changed the way marketers are approaching out-of-home advertising?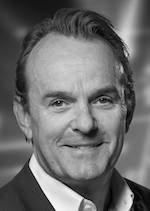 John O'Neill: Traditionally, marketers were looking at out-of-home as a static medium; it was more a continuity medium to support television and radio because of its impact and cost efficiency. Moving into the digital age, we now have a much more dynamic and more flexible opportunity to communicate the messages to market. It's certainly an exciting time for all marketers to consider putting their brands in relevant positions, keeping them fresh, making them really targeted and really cost-effective. Digital now means that the role of OOH has expanded and is more viable for a broader range of categories and clients.  
How does digitisation enable that targeting?
There is now access to a wider range of data sets that inform greater targeting of where and when to position ads, as well as technology platforms that allow for dynamic creative ad serving to optimise a brands message in real time.
For example, alcohol brands would prefer to be advertising at specific times of the day that are more relevant to consumption, and you would imagine breakfast cereals would be the same. With that being the case, marketers are certainly able to utilise their own data and research in conjunction with information that's provided from the OOH operators, to make sure that they are targeted and relevant in relation to communicating their messages. The whole retail aspect is exciting because years ago, on static billboards, it was difficult to promote retail events and price sensitive messaging, as by the time you printed the skins and installed them, the sale would be over and the information out of date.
Now we have the ability to reduce wastage and schedule messaging at the push of a button.
Has it had much of an effect on the creativity itself?
It certainly has, but I think at the end of the day marketers are happy to invest money in any form of media, as long as they can get a return. Trying to be really accountable with your messages and using clever creative is critical, but trying to communicate in captive environments at relevant times is becoming more and more crucial. Some advertisers have been quick to adopt the flexibility and dynamic capabilities that digital OOH provides, however we are still seeing too many brands continue to use static messaging. That is a focus for us moving forward, continuing to educate brands and their creative agencies on how to maximise the benefits provided through digital OOH to produce the most effective and engaging campaigns for their audiences.
You've been in the industry a number of years. What's been the biggest change in recent times?
Being more accountable around understanding and delivering our audiences as well as the rapid digitisation of the medium itself, have been the most significant changes in recent times. These changes have led to us working a lot closer with marketers and advertising agencies alike to ensure that we can be more flexible and accountable. To help us in this process, we established the QMS Digilab, our technology hub for dynamic ad serving capabilities, which allows clients to run multiple messages, incorporate weather triggers, and dayparting as well as integrate all forms of social media. We take a collaborative approach to delivering effective digital OOH campaigns and encourage clients to utilise our Digilab to test their creative executions before they go live.
The expectation for accurate performance metrics. How has that affected your work and approach?
I think data and accountability are critical in any form of advertising to give a return back to marketers. The biggest challenge at the moment is trying to navigate through all of the different data pools and data sources that are currently available. The OMA (Outdoor Media Association) has committed to investing significantly in developing effective measurement around digital. The current industry measurement system, MOVE, has been in place for a number of years now and it certainly works in relation to measuring static billboards, but from a digital aspect we really need to ensure that we're providing the latest, most accountable information to meet clients' requirements in a digital world. There's a commitment from the OMA to heavily invest on behalf of all media owners to make sure that we can provide the most effective digital measurement system available and an understanding of the efficacy of digital OOH.
From a QMS perspective, we have implemented a Digital Performance Platform to monitor and provide reporting on all digital campaigns for our clients, in conjunction with the installation of digital cameras on all of our signs to provide a level of accountability and assurance that the right message is playing at the right time.
How are the best brands using digitisation better in campaigns?
Again, it's about relevance of brands targeting the right audience, with the right message at the right time in the right locations. As mentioned, the retail sector is increasingly utilising digital OOH for price sensitive and retail event messaging. For example, Dan Murphy's has moved advertising spend from more traditional media to embrace the dynamic capabilities of digital OOH to promote price point messaging around key timings and locations. As it has a price guarantee proposition, digital OOH has allowed it to quickly change product and price depending on competition.
The TAC (Transport Accident Commission) has been extremely well-focused on communicating key messages around speed, drug testing and drink driving at the point of decision, with the notion that you can be tested anytime, anywhere.
During the recent Commonwealth Games on the Gold Coast, Optus utilised our street furniture network to display an up-to-date medal tally utilising dynamic live feed technology, and Channel 10 utilises strategic messaging schedules to promote its different programs across various times of day and audiences.
Do you take an active role in advising marketers and clients on their campaigns?
We work very closely with the advertising agencies, outdoor buying specialists and clients to communicate the benefits and role of OOH in the overall communications mix. Having the QMS Digilab allows us to host our clients in an environment where they are able to have a closer look at the medium and see how it can be most effectively used, because it has certainly progressed in the last three or four years.
What are your recommendations for brands planning to implement digital OOH advertising?
It's about understanding the flexibility the platform affords and combining this with data and insights to ensure that relevant and targeted messaging is achieved in the right locations. Brands need to embrace the enhanced capabilities of the medium to maximise effectiveness and not continue to do as they have always done.
Working closely with marketers and brands gives us a really good opportunity to go on a journey together and understand how we can communicate their messages in a much more effective way than what we've traditionally done.
Where do you see the space progressing in the next five years?
The key areas where I believe we will see the most progression is with data and automation. While OOH will always be a broadcast medium at heart, there is already a proliferation of different data sets that give insight into how consumers move, how they spend and how they think and feel. Technology is enriching and enabling data to become more dynamic and drive actionable insights for marketers. While automation is a broader media trend, it is integral for driving greater flexibility, optimisation and accountability in the OOH sector. It's a really positive time for the industry. Who knows where it will go? If we embrace the data and make it really applicable, and we continue to build quality locations and work closely with marketers around the benefits, I think the industry will grow significantly in the next few years.
The data you are referring to, on a practical level, are you looking for traffic and eyeballs?
Certainly traffic and eyeballs are important, but they are only helpful in telling part of the OOH story. There will be a focus on providing more proof to the qualitative benefits of the medium, particularly with digital, where engagement, relevance and cut-through is heightened. Unfortunately, the conversation tends to get stuck on reduced share of voice and CPM, an archaic approach to a progressive and powerful medium with so much opportunity for brands.
The QMS Digilab allows for live monitoring, management and operational intelligence across QMS' digital signage network.
 Image copyright: gropgrop / 123RF Stock Photo