The pros and cons of confronting content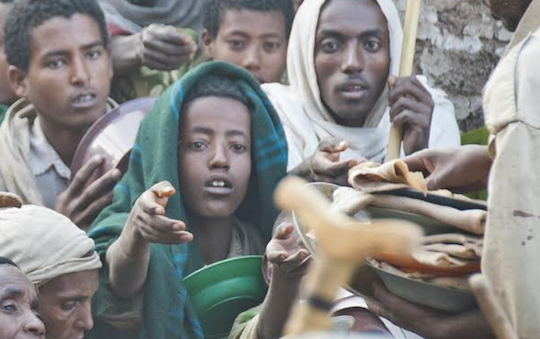 Rebecca Darley says we can overcome the authenticity issues that exist in today's not-for-profit sector through positive communications and storytelling.
This article originally appeared in The Content Issue, our August/September 2016 issue of Marketing mag. New issue out now!

History has seen the charity sector employ a range of marketing tactics to gain the donor dollar.
Many of us may recall some of the attention-grabbing campaigns in the 80s, which flooded the media with images of starving African children in desperate need of food. And through marketing messages that promoted guilt and shame, we were instructed to save these young people from hunger and famine.
Back then, this kind of appeal worked, albeit momentarily. One particular campaign run by the
UK Charity Disasters Emergency Committee between 1980 and 1984, brought in $23 million for famine relief
in Ethiopia.
But not everyone thought these kinds of exploitative images were appropriate – and, in subsequent decades, as marketers have really stepped into their roles as 'storytellers' – more inspiring and discerning techniques have been activated to boost fundraising efforts.
Guilt and shame versus inspiration and impact
While guilt and shame got traction in the 80s, this is not considered a long-term strategy for fundraising. Guilt generates transactions but not true connections. Research shows this approach can create one-time donations, but
it doesn't create or enhance any feelings of goodwill toward the cause.
The more ideal scenario is that supporters begin to understand the organisation's deeper social impact, and feel good about being a part of that. It takes much less effort to raise money when you have donors who are self- motivated and believe in the opportunity that exists to make a difference.
Socially-minded documentary photographer Alana Holmberg has worked for NGOs (non-government organisations) in Africa, Asia and the Pacific Islands, challenging the stereotypes of what it means to experience extreme disadvantage.
She believes the key to creating real connections between audience and subject is to highlight shared human emotion, not differences.
"People want to be inspired by the stories of strength, resilience and courage – and see innovative solutions at work. They need this to feel a sense that disadvantage can be overcome," she says.
Holmberg's view is particularly true for us at UnLtd, when we look at framing the issue of youth disadvantage in Australia. If we were to focus on the injustices and disadvantage young people so unfairly experience – we could be seen to be accepting the injustice itself. When in actual fact our mission is to undo the consequences of the disadvantage.
The right (content) to survive
Successful Australian NFPs must use every means available to them to understand their target supporters and their motivations for giving to the cause.
To form a personal connection, charities need to tell their stories with credibility and transparency, as well as conviction.
On top of this, they also need to stay on top of the competition. With so many different organisations competing for the goodwill dollar – many with similar service offerings – it's more important than ever for charities to get their fundraising and marketing content right to survive.
That is, of course, if they are even fortunate enough to have a dedicated marketing person or budget, which, the majority of the 54,000 registered Australian charities out there don't have. They recognise the power of investing time and energy in marketing to broadcast their message, build a loyal supporter base and obtain donations. But marketing resources need to come second to providing vital services to at-risk young people.
Of the youth charities UnLtd supports, we estimate only about 60% have access to a marketing professional. The rest rely on the pro bono and goodwill support from our industry.
Inspire me, but earn my trust first
The April 2016 EMMA report, 'Have a Heart! Charity and Not-for-Profit Trends and Insights' tells us that transparency and accountability among charities is the major concern for Australians. Two in three (68%) Australians are worried that only a fraction of their money reaches the cause itself, and the remainder goes to administration and marketing costs. This is a real catch-22 when, without marketing, these organisations struggle to get their fundraising campaigns off the ground!
The EMMA report also found that the reasons Australians identify with charities is often because of how the charity can enhance their own personal brand. This mindset makes consumers responsive to pleas that feature a single identifiable reason to donate, and evidence of how their donations are being used to good effect, rather than statistics or data about the scale of the problem faced.
And that sums it up right there.
The secret to creating real connections – not just transactions – is having a single identifiable reason to donate.
We can overcome the authenticity issues that exist in today's NFP sector through positive communications that tell stories of transformation, by focusing on the tangible social impacts, through marketing that creates empathy and not sympathy and through campaigns that frame the possible solutions and not the problems.
Undoing youth disadvantage in Australia is a massive undertaking. But, by uniting an entire industry and creating a powerful collective – with all of our skills, power and wealth – it suddenly feels achievable. Our marketing message is clear: we won't rest until no Australian child is disadvantaged.
_
Rebecca Darley is a board member at UnLtd and head of group marketing and planning at Westpac.
Marketing is proud to have UnLtd as its Content Partner. UnLtd brings the Australian media, marketing and advertising industry together to tackle a big issue: undoing youth disadvantage. We urge you to visit unltd.org.au and get involved.