Coca-Cola announces sustainable packaging goals: 'A World Without Waste'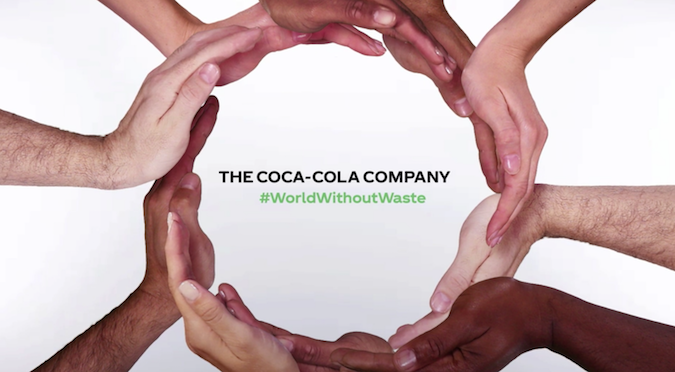 Coca-Cola has announced its global goal to collect and recycle the equivalent of every can or bottle it sells by 2030.
The 'World Without Waste' initiative aims to take a holistic look and a renewed focus on the entire packaging lifecycle: from design and manufacture to recycling and re-purposing.
Via the 'Why a world without waste is possible' Coca-Cola Journey blog post, president and CEO James Quincey outlines the problem: 900 metric tons of plastic waste enters the world's oceans every hour. Unchecked, this poses immense danger to marine life and also human society.
"It's tempting to romanticise a world without packaging," he says, but this "mistakenly ignores all the good they [plastic cans and bottles and other packaging] can do.
"Modern food and beverage containers help reduce food spoilage and waste. They limit the spread of disease. They can help save lives. Bottles and cans can benefit society if they're designed properly and disposed of responsibly."
Coca-Cola will employ its global marketing clout to educate communities and governments on the benefits of recycling. It plans to reduce the amount of plastic used in its bottles.
The 100% recycling initiative focuses mainly on its plastic bottles and aluminium cans – which  make up 85% of its product packaging – but will extend to packages from other companies.
"We believe every package – regardless of where it comes from – has value and life beyond its initial use," Quincey adds. "If something can be recycled, it should be recycled. So we want to help people everywhere understand how to do their part."
Coca-Cola Australia and bottling partner Coca-Cola Amatil welcome the announcement. "Though our packaging materials are already 100% recyclable in Australia, it is unacceptable to us that packages end up in the wrong place; in our oceans and waterways, or littering the communities where we work and live," says Coca-Cola Amatil public affairs and communication director Christine Black.
"We know there is much more to do but we are committed to helping meet the ambitious goal set by Coca-Cola."
In addition to the 100% recycling goal, Coca-Cola aims to use 50% recycled materials in its packaging production.
As for existing waste, Coca-Cola is currently in partnerships with The Ocean Conservancy, Trash Free Seas Alliance, World Wildlife Fund and others around the world.