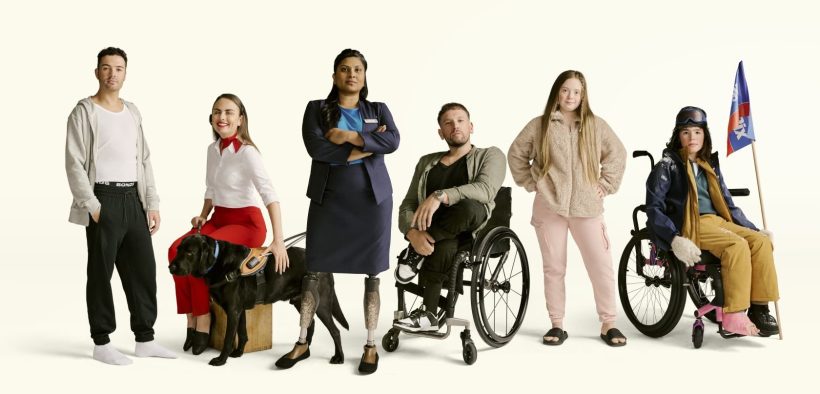 A coalition of Australia's biggest brands have come together to form the Shift 20 Initiative, which is focused on increasing disability representation, inclusion and accessibility in Australian advertising and media, with Dylan Alcott starring.
Although almost 4.5 million Australians – nearly 20 percent of the population – have a visible or non-visible disability, only one percent of ads include them. This is set to change with the new Shift 20 Initiative. Led by the Dylan Alcott Foundation and creative independent agency Special Australia, the new campaign intends to produce a more accurate representation of the population by 2028.
Re-shot ads stun in media roadblock
The Shift 20 Initiative is a groundbreaking collaboration that includes some of Australia's leading brands: ANZ, AAMI, Bonds, Kia, McDonald's, Oral-B, NIB, Pantene, Uber and Weet-Bix, who all re-shot ads to include a person with a disability. These altered spots were launched on Sunday 17 September, culminating in a complete media roadblock during the prime time Sunday Project.
The milestone event is finally drawing attention to disability representation in Australian media. And, thankfully, it shows no sign of stopping – Tourism Australia, Virgin Australia and TikTok have also now come on board as foundation partners.
An unignorable message from Dylan Alcott
The idea behind the Shift 20 Initiative has been a long time in the making, first conceived by Special Australia and the Dylan Alcott Foundation two years ago.
Over a dozen well-known commercials replaced key roles to feature people with disabilities. Importantly, the promotion highlights people with both visible and non-visible disabilities, recognising the prevalence of invisible disabilities.
As Alcott notes, the new talents 'are not famous people with disability; instead, they're ordinary people doing ordinary things: eating breakfast, opening bank accounts and wearing undies.'
And this is important. Representation is powerful, and brand advertising wields enormous reach and influence. In 2022, Free-To-Air ads were watched by 92 percent of all Australian adults monthly. Ad campaigns therefore play an important role in normalising the existence of people with disability in mainstream media and beyond.
"When I was a kid, the only time I'd see someone like me on TV was as a result of a tragic car accident, and that hasn't really changed," says Alcott. "Seeing people like me on TV would have changed my life, and that's what is so powerful about this initiative."
"We want to shift perceptions so that when society thinks of people with disability, they don't only think of gold medal Paralympians or someone in an accident, they see a person, just like them," Alcott says.
The campaign endeavours to set a new standard for representation in advertising. It's time we hold brands accountable to produce lasting change.
Special's executive creative director, Ryan Fitzgerald, says, "When we first started talking to Dylan about the issue, we knew this couldn't simply be an awareness job. We needed to do something bold that made a statement, and more importantly, created real change with a long-lasting impact."
Shift 20 Initiative x AAMI – Blender from Special Group on Vimeo.
Shift 20 Initiative x McDonald's – Winter Huddle from Special Group on Vimeo.
A massive creative collaboration
The Shift 20 Initiative represents a gargantuan collaboration which has relied on the efforts of multiple agencies and studios.
The majority of the re-shoots were led by the production company Revolver. Reflecting the initiative's message that people with disabilities can perform everyday jobs, the campaign features both talent and crew with disabilities.
To ensure an inclusive production environment, oversight was also given by a variety of disability consultants on the casting process as well as production considerations for people with disability, such as disability riders, crew attachments and Auslan translators. This relied on the collaboration of production partners such as Bus Stop Films.
Other creative partners involved in the revised ad spots were The Glue Society and Rumble studios, who helped produce the spots for maximum effect, and PHD, who collaborated with the brands' media agencies.
"The support from the industry has been instrumental to launching this initiative. This is about sharing and educating the wider industry as to the massive commercial and cultural opportunity of having representation of the whole population," says Lindsey Evans, partner at Special and board director at the Advertising Council Australia.
In addition to the new ads, the Shift 20 Initiative has launched a dedicated website, which helps brands create more accessible and inclusive communications by providing four core principles outlining how businesses can apply best practices within their organisations.
The campaign is rolling out across TV, OOH, cinema, earned media, and social and digital channels. All assets are designed to be truly accessible.