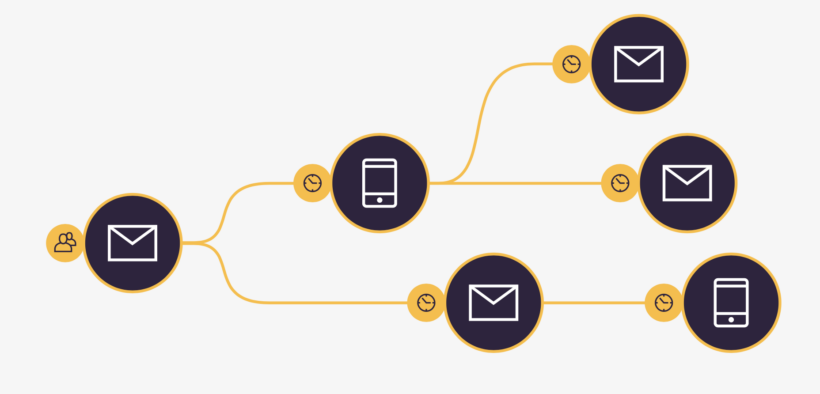 The team of marketing tech experts at Taguchi know first-hand how a well-executed marketing automation program can materially improve ROI. They've developed a platform to make the highly sophisticated feel simple, where communication, timing and content are influenced by individual consumer behaviour. 
In a collaboration with ITWire TV, Ben Dyer CTO of Taguchi highlights the powerful tools of ultra-modern marketing automation tech and how they deliver top performance. But first, it's important to understand what marketing automation really means. 
What is Marketing Automation? 
Marketing automation is very much 'the now' of tech marketing. Marketing automation software helps marketers implement and manage multiple aspects of a marketing strategy with speed and efficiency by letting the software do most of the work. Dyer defines the term as automating the execution, targeting and delivery of messages to individual recipients. Through the use of software, it improves operational efficiency and increases revenue growth by targeting and engaging with customers through various channels. 
Dyer explains that it provides more powerful capabilities. It is able to create individualised messages to a specific person, separating it from a traditional marketing model.
Marketing automation bridges the gap between sales and traditional marketing. Sales people form a 1:1 relationship, creating a dialogue and getting to know the customer. In contrast, traditional marketing like TV advertising has typically been a mass single-message execution. Marketing automation sits somewhere in between, 
Think of marketing automation like creating a prototype conversation with customers, and the systems in place will enable those conversations to happen over time, at scale.
What makes Taguchi different from traditional marketing? 
The Taguchi system has been developed like the letter T, meaning that the cross on the 'T' resembles the wide breadth of capabilities within the platform, such as reporting, asset management and CRM. 
The stem of the 'T' represents the depth of the marketing automation functionality, which is able to execute personalised content en masse. 
Dyer says that the platform's key point of difference is its ability to automate content production, which consists of targeting, segmentation and delivering the message to the right person at the right time. 
Australia's most trusted brands use Taguchi 
Domino's is just one Taguchi success story, with the multinational pizza chain incorporating next-generation marketing technology into its strategy. Dyer explains that Domino's is able to tailor customer messages by generating thousands of variations of email content. This is broadcast across  its user base, with the sophisticated high-volume email program returning great success. 
The enhancement of personalised messages allows franchise owners to gain access to the best in marketing capabilities. The personalised messages are produced based on two main ideas. 
The first is individual buying behaviour.The second is based on the idea that individual franchise owners may have different variations of the products they would like to sell in the market. 
The email sent to customers may look like a generic email, but it is personalised based on those factors. Dyer says that, because of this, Domino's has been thriving and doing well in its space. 
"You think selling pizza is not really a technical thing, but they get digital at a corporate level and they are executing very well," he adds. 
The future is privacy 
As data breaches have severely impacted large corporations such as Medibank and Optus, Dyer explains the importance of managing privacy and data security in the field of marketing. 
Taguchi places a large emphasis on maintaining privacy and data security, stressing that trust is critically important with data sovereignty requirements. 
The future of marketing automation 
As technology evolves, Dyer explains that traditional media such as billboards, radio and TV will be complemented by digital means. 
One notable example of this shift is the replacement of traditional billboards with digital billboards. Digital billboards are able to provide a more dynamic and engaging advertising experience, allowing businesses to change their message in real time, targeting specific audiences and gathering valuable information on  audience response to the ad. 
Dyer stresses the importance of collecting data to target and track consumer behaviour. The future of marketing automation technology will lead to success for businesses. For Dyer, Taguchi's technology advancements are pivotal to ensure continuous improvement to their marketing automation program. 
To see Taguchi in action, sign up to the weekly Marketing Mag newsletter.