Brand power: why sponsoring Paralympians allows everyone to strike gold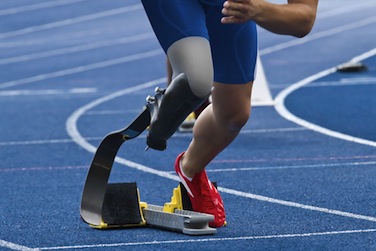 By Dave Arthur, Southern Cross University
When triple Paralympic gold mediallist Evan O'Hanlon steps up to the track for the 100m this week, you might notice something odd about his racing apparel. The 24-year-old, who is Australia's fastest disabled athlete, will have taped over the logos of multinational sporting companies on his racewear and shoes to protest their lack of financial support for disabled elite athletes.
It's true that Paralympic sport is not as lucrative and possesses a far lower profile. But to say it is unsponsored is a misnomer. Since the inception of the concept in 1960, sponsorship has gradually increased to the point that the International Paralympic Committee (IPC) now possesses five global partners, albeit at a lower price point than the IOC. They operate a similar global/local program, yet total revenue is less than that achieved at the Olympics.
A similar situation exists with regard to individual Olympic versus Paralympic individual athlete sponsorship. While some Olympians are veritable brand billboards with a significant sport related income (at least away from the stringently controlled Village and competition environment), very few Paralympians – if any – enjoy such a status. So why this contradiction at the pinnacle of the sport and why the inequity in individual status, when Paralympic athletes train just as hard as their able-bodied counterparts to attain similar goals?
The answer lies in the attractiveness of a given event, team, competition or individual to corporations from a commercial (rather than an altruistic) perspective.
Where sponsorship was once more charity or patronage, nowadays it is an entrenched and legitimate marketing tool that is commercially driven and objectively led. As Kim Skildum Reid acknowledged in a recent blog:
"Performance is only one part of the sponsorability of an athlete, along with the profile of the sport, her/his personal profile and charisma, their relevance to at least one of the sponsor's key target markets, behaviour, and sometimes the athlete's back-story. An athlete – disabled or able-bodied – can bag a ton of medals, but if their sport isn't in the top tier (modern pentathlon, anyone?), they may very well struggle to get significant sponsorship."
As such, sponsorship of Paralympic athletes is better equated with the sponsorship of minority or less popular sports, rather than the high profile, mainstream, iconic sports. Take sailing as an example. According to the Australian Olympic Committee (AOC) website, prior to London 2012 a total of seven gold, four silver and eight bronze medals have been won by Australian sailors since their first gold at Tokyo in 1964.
Can you name a single one of them? Malcolm Page is regarded as the best 470 sailor in the world and won gold for Australia at Beijing in 2008. Bar his fellow competitors, close relatives and the odd trivia aficionado few would be aware of either him or his magnificent achievements. While the America's Cup and some ocean races can attract significant corporate investment, sailing at this level has little of the marketing clout and suffers an according lack of sponsorship.
Of course, some Paralympic athletes break through this usually by virtue of controversy or longevity of achievement. Oscar Pistorius is a disabled athlete hellbent on competing alongside able-bodied counterparts at this year's Olympics, despite being a double amputee. A long campaign that has seen him polarise opinion has been rewarded with a place in the individual 400m and 4 x 400m relay as well as an opportunity to defend his 100m, 200m and 400m individual titles at the Paralympic Games.
Australian Kurt Fearnley transcends Paralympic sport. Although a three-time Paralympian who has garnered ten medals in total (three of them gold), he has also competed in some 43 marathons, winning all but 12 of them. He has also recently completed the Kokoda Track and he now has perhaps unparallelled exposure as a disabled athlete.
There may well be light at the end of the tunnel for Paralympic athletes. London 2012 has also seen a remarkable phenomenon in that sponsorship of Paralympians has become slightly more mainstream. According to the Wall Street Journal, this is largely due to the halo effect that the Olympic Games exerts over the Paralympic Games and, to a certain extent vice-versa.
Corporations find Olympic sponsorship hugely expensive, with Paralympic investment less so. If they can successfully link the two through Paralympic sponsorship, then the kudos and commercial benefits are received at both levels. This was corroborated by Gareth Wynn of EDF Energy, an official sponsor of both the London Olympic and Paralympic Games, who claimed in a recent article in Marketing Week that the London 2012 Paralympics represents "probably a more powerful and compelling opportunity than it ever has done before".
Furthermore. he writes: "there are lots of human stories around the Paralympics. By partnering with the athletes you can start to achieve some powerful brand and marketing benefits". Ultimately, this may prove too late for the current crop of Paralympic athletes – but for the next generation, the future looks bright.

This article was originally published at The Conversation.


Read the original article.