Breakfast radio shake ups continues with Matt and Jo bowing out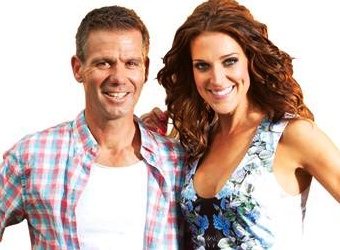 Fox FM's long-standing breakfast radio announcers Matt Tilley and Jo Stanley have announced they won't be returning to the Melbourne airwaves in 2014.
The pair, along with show anchor, Troy Ellis, have been on the air for almost a decade and have claimed the number one FM breakfast spot for six consecutive years before being overtaken by DMG-owned Nova FM's breakfast show spearheaded by Dave Hughes and Kate Langbroek, and by Triple M's Hot Breakfast with Eddie McGuire.
Nova's 'Hughsey and Kate' have also announced they will not be returning next year.
The Daily Telegraph has today reported a hive of rumours around possible  moves within the radio industry.
The 'Matt and Jo' team released statements this morning following the announcement:
Jo Stanley says: "It has been an absolute privilege to be a part of the Matt and Jo Show for the last 10 years. I've loved my on air brothers, Matt and Troy, and thank them for tolerating my moments of crazy in amongst my moments of creativity.

I've loved our off air team, who have all supported us through thick and thin. And I've loved our listeners, who have made me laugh, cry and grow as a person more than I could have ever dreamed possible at the start of this journey. But together we've made this decision because, after a decade, it's time for new challenges".

My creative drive is greater than it's ever been. I can't wait to start ticking the boxes of the half-finished projects and grand ideas I've had clogging up my to-do list. It's a sad end of an amazing chapter of my life, but a very exciting beginning!"

Matt Tilley says: "Jo's quote pretty much covers it all. No doubt it has been a privilege for her and Troy and the fabulous Adam to work with me. And yes, I have tolerated a lot. Being a genius who thinks he's always right and enjoys talking over people is a gift that I am thankful for, but nonetheless it is a challenge to share that gift with lesser types each day. Do I see myself having a future in AM talkback radio – whatever would give you that idea?!?!"

Show Anchor, Troy Ellis says:"Anchoring the Matt and Jo Show has been  an incredible privilege, I've loved every single minute of it! We're an incredibly close little team, Matt and Jo are like family to me and I'm going to miss seeing them every morning.  But the time has come for me to move on, and explore other challenges and opportunities and I'm already looking forward to that. It's been an amazing ride and 20 years at the Fox has flashed by in what seems like minutes. I am thankful to have been part of the juggernaut for as long as I have…and I want to thank our listeners for allowing us into their daily lives. I will miss you all!"

Fox FM content director, Dave Cameron says, "It's been an absolute pleasure and privilege to work with such a successful and amazing team that has been relentless in its pursuit of entertainment excellence, making it the most successful FM breakfast show in Melbourne over the last decade".